March 10, 2023
How To Become a Lead IQA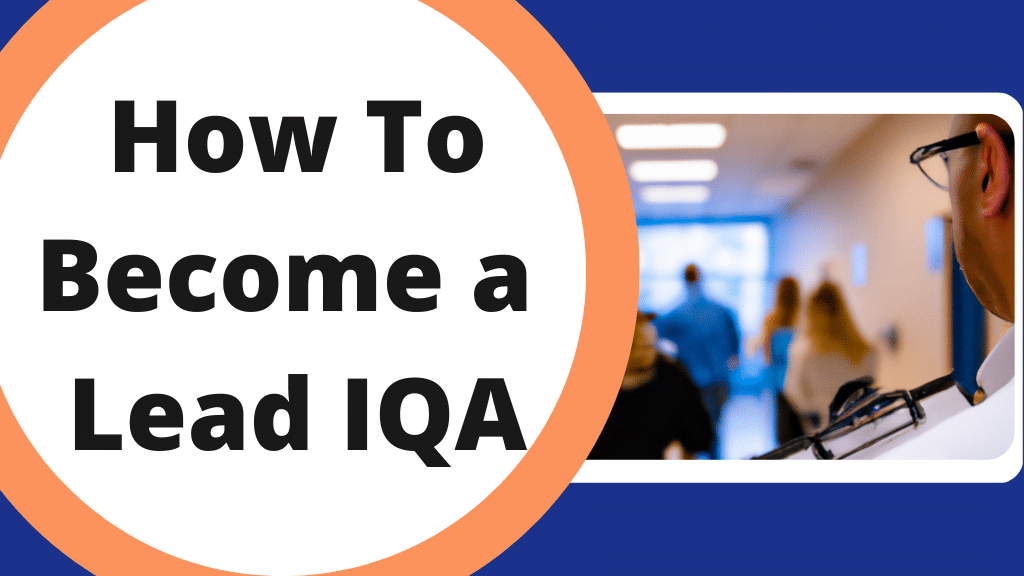 If you want to become a Lead IQA, you'll be happy to hear it is a highly-rewarding career that can provide significant opportunities for personal and professional development. But as with most rewarding careers, it won't happen by accident and requires hard work, dedication and training to reach your goals. In this blog post, we'll break down how to become a Lead IQA, as well as explain a little more about the Lead IQA's role to ensure it's the best route for you!
What does a Lead IQA do?
The role of a Lead Internal Quality Assurer (Lead IQA) is critical in any training organisation. The Lead IQA ensures that the organisation as a whole meets the standards, quality and assessment requirements laid down by the Awarding Body. Ensuring that these are met enables the organisation to provide recognised qualifications, keep its status as an approved centre with the awarding body, as well as provide fair and consistent training and assessment to customers.
What experience do I need to become a Lead IQA?
The first step towards becoming a Lead IQA is to acquire relevant work experience.
As a minimum, you will need to have up-to-date knowledge of your own subject area. This means ensuring that you are familiar with the latest happenings in your field, the standards set by the main Awarding Bodies and any new trade news.
You can also take a refresher course, attend trade conferences and events or read up on the latest "hot topics" in your subject area.
Having knowledge of the industry in which you're working includes being familiar with all the relevant standards and regulations, industry-specific training and assessment needs and the expectations of learners and employers.
As a Lead IQA, you will be the go-to person in your organisation, so your expertise should be second to none!
Networking with other professionals in your industry and education can also be invaluable for developing as a Lead IQA.
Whether this is achieved by attending industry events, joining professional organisations, participating in online forums or a mixture of all of these, you'll find that networking can provide opportunities to learn from others, share best practices and build relationships with other professionals.
It's about seeing and being seen – even if you're usually working from home or a central office, breaking the routine and seizing the chance to engage with others can help you to achieve your Lead IQA goals.
What qualifications do I need to become a Lead LQA?
Having a valid IQA qualification is often a prerequisite stipulated by the Awarding Body for anybody carrying out IQA roles, so check what their requirements are and make sure that your taking steps to comply with them.
The most popular Lead IQA qualification is the Level 4 Certificate in Leading the Internal Quality Assurance of Assessment Processes and Practice. This qualification covers the knowledge and skills required to manage the IQA process, lead a team of IQAs and deal with day-to-day IQA activities.
If you decide to pursue an IQA qualification, you will discover that as part of your training, you will need to demonstrate competence by submitting evidence of your practical IQA work.
This evidence can include IQA reports, feedback to assessors and learners, standardisation activities and evidence of your management of other IQAs carrying out their work. Not only is this essential for gaining your qualification, but you'll find these things useful for adding to your CV or resume.
Having up-to-date and hands-on experience is great to show potential employers, your HR department and to put on your LinkedIn profile.
Where can I find a Lead IQA job?
You may find a lead IQA job through your network, which is why we've already recommended networking! Sharing with your exisiting colleagues, connections and acquaintances that you're taking a Lead IQA course, or indeed have already qualified, puts the feelers out there and lets your people know you could be applicable should a role come up in their organisation.
You can also use job board sites such as Indeed, where you will find plenty of internal quality assurance roles to suit your current and future career plans. Consider setting up job alerts so you can keep an eye out for the best opportunities.
We also recommend you update your LinkedIn profile once you have earned your Level 4 Lead IQA qualification, so that those in your wider network will be aware that you are qualified and ready to take on a Lead IQA role. You can also use LinkedIn to join groups related to Internal Quality Assurance, where you can find job opportunities posted or connections who could later call on your skills.
Becoming a Lead IQA
Becoming a Lead IQA requires a combination of qualifications, experience, skills and industry-specific knowledge. Networking with other professionals, keeping up to date with changes in the industry and continuously improving quality assurance processes can also help to showcase your effectiveness.
At Carlton Training, we believe becoming a Lead IQA is a challenging but rewarding career path that can provide significant opportunities for you. Contact our friendly team for advice on the best IQA qualification for you and more information on how to become an IQA.
Next &nbsp&nbsp&nbsp&nbsp

›



‹

&nbsp&nbsp&nbsp&nbsp Previous

Back to Blog