February 28, 2023
What can I do with a CAVA qualification?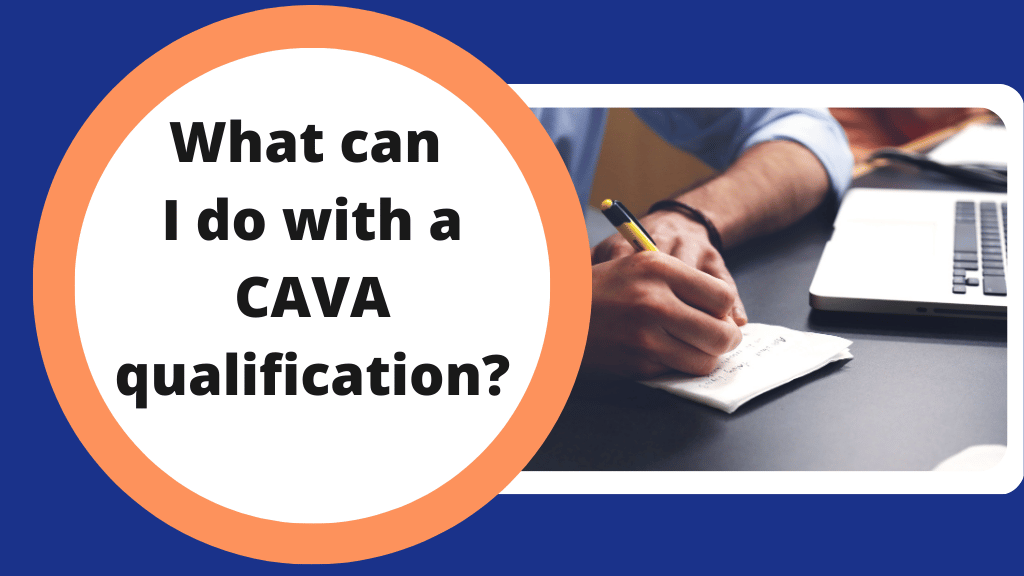 Congratulations are in order if you've achieved your Level 3 CAVA Certificate in Assessing Vocational Achievement! You have taken a major step towards boosting your career and status in your education and training career. Now you have completed your CAVA course, it's time to review what you can do with a CAVA qualification and decide on the next steps to take.
Your CAVA qualification opens up a wide range of opportunities and allows you to choose a teaching career path that best aligns with your interests, skills, and goals.
In order to take those steps, you need to start letting people know about your new qualification.
Update your CV & LinkedIn profile
A CAVA qualification is a comprehensive assessor qualification, and because it's such an important achievement, the first thing you should do is let people know you are qualified.
Take the time to update your CV or resume, and if you use online job sites regularly, then take the time to re-upload your CV there too.
Cast your net wider by taking the time to update your LinkedIn profile with your CAVA qualification too.
Gaining your CAVA qualification might even be worth a LinkedIn post to show your professional contacts that you're up to date and have the most modern assessment qualification on the market.
Letting your wider network know your status as a qualified assessor can bring many new job opportunities to your door.
If you're already employed, document your qualification with your HR department at work too. This can open up the doors for a promotion with very little additional work on your part.
You can also take the more traditional approach of letting your colleagues know you've passed and are now a fully qualified assessor.
Whatever avenues you take to share your new qualification, ensure you publicise that you're now a CAVA holder ready to assess candidates in any situation.
What will a CAVA qualification allow me to do?
There are two key roles you can take up once you have a CAVA qualification.
Assess Candidates
Assessing candidates on dedicated training courses at colleges, training centres or workplace training schemes is one of the key roles you are now qualified for as a CAVA holder.
In this role, you are responsible for checking students have gained the necessary skills and knowledge to meet their learning objectives. Specifically, this could involve conducting assessments, providing feedback, and guiding students through the learning process.
You will also be responsible for providing students with advice and support needed to achieve their qualifications and pass their course.
As an assessor, you are also a mentor, so you play a vital role in supporting your candidates' development and helping them to achieve their full potential.
It's never just another day at work for these candidates. The assessments and actions you carry out are often pivotal moments in their lives, affecting their future and influencing their progress on the course itself.
Teach or Train Students
If you have a passion for teaching and training, a career as a teacher or trainer could be the perfect fit for you.
With your Level 3 CAVA, you can support your application for teaching positions by demonstrating your knowledge and experience in assessment, which is a vital part of any teaching and training role.
You will also find that an increasing number of vacancies for trainers require all applicants to be qualified assessors. This is usually due to the requirements made by many Awarding Bodies, which now often stipulate that anybody involved in delivering their qualifications has a suitable assessor qualification.
Your Level 3 CAVA (Certificate in Assessment of Vocational Achievement) will be highly valued by employers and can help you to stand out from other candidates.
As a teacher or trainer, you can inspire and motivate students, helping them achieve their goals and reach their full potential.
Can my qualification help me transition into other roles?
You don't have to end your training after completing your CAVA course. Instead, you can use your assessor qualification to take further training and enhance your knowledge, as well as your CV.
Here are a couple of options you should consider.
Internal Quality Assurance (IQA)
Working in Internal Quality Assurance is a popular next step for individuals with a Level 3 CAVA.
In the IQA role, you will be responsible for checking and verifying the quality of assessments and assessment practices within your organisation.
This involves working closely with other assessors, ensuring that assessments are of a high standard and meet the awarding body's requirements.
As an Internal Quality Assurer (IQA), you will play a critical role in maintaining the quality and reliability of assessments for students.
You will also be responsible for the actions of your team of assessors, regularly reviewing their work and assisting them in keeping up to date with best practices in assessing.
Additionally, the IQA is usually the key person who links the training organisation and the Awarding Body. They are the ones to liaise between these organisations and be the contact for the External Quality Assurer when they carry out their inspection visits.

Being an IQA could be just the thing for you if you want to progress into the management side of an education and training career.
Level 5 Diploma in Education and Training
Your Level 3 CAVA can also be a stepping stone to further education and training.
Suppose you want to continue to develop your skills and knowledge. In that case, you could consider obtaining a higher-level teaching or training qualification, such as a Level 5 Diploma in Education and Training (DET).
This qualification will provide you with a deeper understanding of the theories and practices of education and training and the skills and knowledge needed to excel in your role.
What can I do with a CAVA qualification?
Your Level 3 CAVA qualification opens up a range of exciting career opportunities in education and training.
Whether you want to work in a traditional teaching role, further your education and training, or develop as an IQA, your CAVA will support your aspirations and goals.
Take the time to explore your options and choose the right path. With dedication and hard work, you will be well on your way to a fulfilling and rewarding career!
If you are exploring what you can do with a CAVA qualification because you are considering taking the CAVA course, you can learn more about our Level 3 CAVA course here.
At Carlton Training, we offer online and in-house CAVA training depending on what best suits your needs. If you are unsure what would be best suited for you, reach out to our friendly team who will help guide you.
Next &nbsp&nbsp&nbsp&nbsp

›



‹

&nbsp&nbsp&nbsp&nbsp Previous

Back to Blog