October 27, 2023
QTLS Guide: Qualified Teacher Learning and Skills Status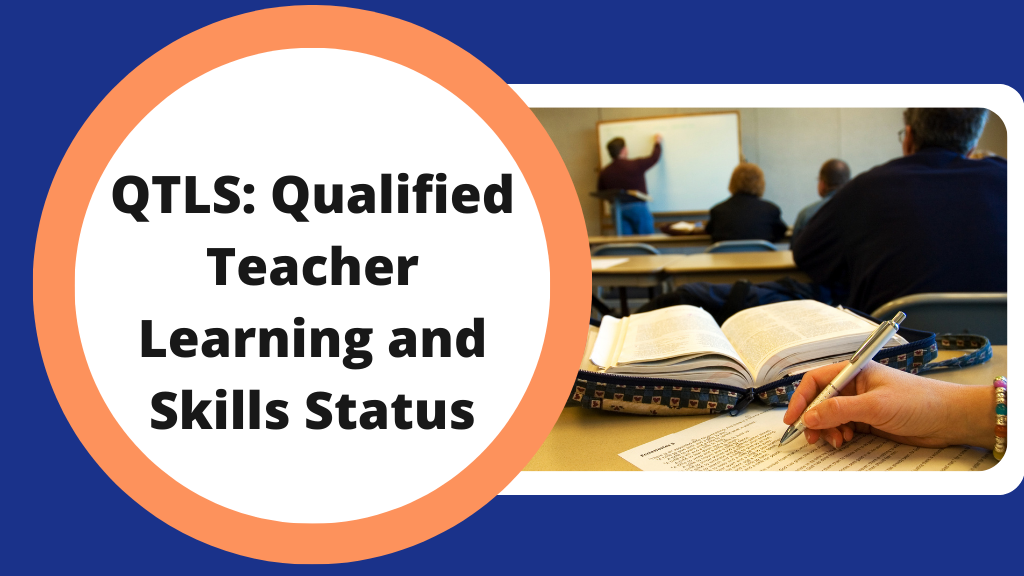 If you've decided to become a teacher, then choosing the right course and route to follow can seem like a daunting challenge. There are a multitude of qualifications, courses, and career paths that can often bewilder newcomers and even seasoned professionals. There are multiple university options, such as a Post-Graduate Certificate in Education (PGCE), Bachelor of Education (B.Ed), and the assessment route to gain Qualified Teacher Status (QTS). As well as all of these, there is another route – QTLS, and this might be the one for you, especially if you're looking for a quicker and simpler route to teaching.
Whether you're pondering a transition into teaching, an existing teacher looking to formalise your qualifications, or a school head or college principal hoping to upskill your workforce, QTLS can provide the ideal pathway.
What is QTLS?
QTLS stands for Qualified Teacher Learning and Skills. It's a recognised Professional Status for the education and training sector that allows you to teach in schools, just the same as if you had QTS, but without going through a long period of being a "Newly Qualified Teacher".
With QTLS, once you've gone through your initial teacher training and officially have your Qualified Teacher Learning and Skills status, you're a fully qualified teacher from day one.
Who is QTLS for?
QTLS status enables you to be a fully qualified teacher and be able to teach in any school for any age group, colleges Further Education. It's also suitable for teaching any subject.
How to Achieve QTLS Status
QTLS status is awarded by the Society for Education and Training (SET), a professional body for teachers, trainers and leaders in the education sector. They have a clear process for people to gain QTLS, called Professional Formation. This involves applying to them via their online portal and undergoing self-assessment, Continued Professional Development (CPD), showcasing evidence of effective teaching, demonstrating how you meet the SET professional standards and submitting a final supporting statement.
QTLS Eligibility
The requirements for QTLS status are clearly set out by the SET, they include:
An eligible Education and Training teaching qualification at Level 5 or above. The Level 5 Diploma in Education and Training is included as eligible.

A level 2 qualification or above in Maths and English (or equivalent). For most people, a GCSE in these subjects is adequate.

A suitable Level 3 qualification (or equivalent) in the subject you teach.

Joining the SET as a member to start your application process.

Sufficient teaching practice and currently teaching for a minimum of ten hours per week. If your schedule is 10+ hours per week on average, but some weeks are less, you can still apply.

Access to a suitable supporter who will act as your mentor during the process. This could be a more experienced colleague, your principal or headteacher.

Why should I choose QTLS?
For those contemplating a career in education or seeking to boost their teaching credentials, QTLS serves as professional recognition. For employers, encouraging and enabling staff to gain QTLS can improve the learning experience for pupils and students as well as enhance the standing of the organisation by showing that staff are professionally qualified.
What Can I Teach with QTLS?
With QTLS status, you can teach across all subjects, although most employers will want you to have knowledge, experience or suitable qualifications in your chosen subject.
Who Can I Teach with QTLS?
Holding QTLS status is versatile and opens doors to numerous teaching opportunities:
Schools: Following regulatory changes back in 2012, QTLS holders are also recognised in schools, meaning you can teach in both primary and secondary settings. This provides a breadth of opportunities to diversify and expand your teaching career.
Further Education: Typically, QTLS is great for those wishing to teach in the Further Education (FE) sector, which includes colleges and adult education centres.
Why Choose the Level 5 DET with Carlton Training?
If you're not keen on embarking on lengthy and often expensive university courses, Carlton Training offers the Level 5 Diploma in Education and Training as a suitable alternative to the PGCE qualification, with a much lower cost and less study time required. The Level 5 DET is It's a nationally accredited course that not only equips you with the skills you need to teach and, on completion, but can be your ticket to applying you can apply for QTLS.
Once you've got your QTLS, you'll hit the ground running, as you'll be a fully qualified teacher from day one.
At Carlton Training, we offer a flexible, learner-centric approach, ensuring that your path to achieving QTLS is smooth, supported, and suited to your individual needs. With all of our courses, you benefit from:
Flexible Online Training: No set schedules. No commute. Study from the comfort of your home whenever you wish.
Expert Tutors: Benefit from a wealth of knowledge with our seasoned educators, ensuring you receive the best instruction and insights into the world of teaching.
Personalised Support: Unlike other institutions where you might feel like just a number, every learner is assigned a dedicated tutor. You're never alone in your journey. You can book online and get started today, or contact our friendly team for more advice on the best assessor qualifications and courses for your needs.
Next &nbsp&nbsp&nbsp&nbsp

›



‹

&nbsp&nbsp&nbsp&nbsp Previous

Back to Blog