October 3, 2023
The Roles and Responsibilities of an Assessor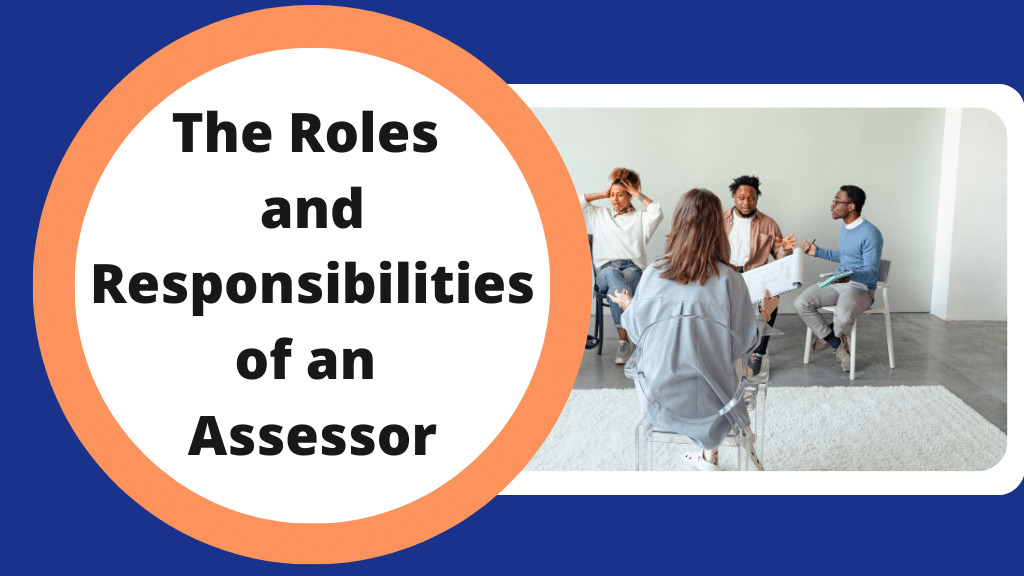 Being an assessor is an important role, both for the candidates you interact with and the centre, college or company you work for. If you've been assessed to gain a qualification yourself, then you'll probably remember how large the assessor loomed in your mind! Since the assessor is the person who decides whether or not a candidate has passed, their actions really are critical.
What are the Roles and Responsibilities of an Assessor?
Assessment Decision Making
Making decisions based on their judgments of candidates' knowledge, skills and competence against set criteria is an important part of the job role. Normally, these criteria are set by the awarding bodies responsible for issuing qualifications. Alternatively, they could also be employer standards set by a company or industry standards set by a trade body.
Documenting your decisions as an assessor is essential because assessors need to show that the candidates they've passed deserve to pass and those who have not passed did not meet the standards. As an assessor, this means making and keeping notes, forms, records and reports. An External Quality Assurance Training (EQA) from the awarding body or your employer could need to see proof at any time, or a candidate could appeal or question a result, so you need to be prepared.
Different Types of Assessments and Assignments
Using evidence as part of the assessment process is important. Gone are the days when the only form of assessment was a formal exam where all the candidates sat in silence. These days, as an assessor, you might be observing a learner in a vocational setting, such as the workplace, checking the tasks they've carried out, reviewing coursework and assignments, questioning them, or even asking their managers to testify to their abilities. All these things involve evidence, so an assessor's role includes having a firm grasp of how this evidence can be used to prove that a candidate has met the required standards.
Giving Feedback
Providing useful feedback to candidates is a vital part of being an assessor. All candidates need feedback on their performance in assessments because a simple "pass" or "fail" doesn't help them progress and identify what they have done right or wrong. As an assessor, you need to be a good communicator to let candidates who haven't passed know why they haven't and what they can do to improve. Even for those who have passed, it's critical to let them know why and what, if any, areas of improvement.
Fairness and Impartiality
Fairness and impartiality are a key component of the roles of an assessor. It's not just important that you are fair and impartial – you also need to be seen as fair and impartial to all candidates. That means nobody gets the impression they had a harder or easier time meeting the requirements. This can be particularly important if a job or school placement is on the line. If candidates feel the assessment process is unfair, it can lead to problems like low morale, complaints, or even legal issues. So, it's not just about being fair but also making sure everyone sees and believes that you are fair in your assessments. This helps keep trust and respect in the system.
Professional Development
On top of everything we've already listed, there are all sorts of other things that assessors are responsible for to make sure that the assessments they are carrying out are valid and done in a professional manner. Responsibilities like CPD (Continuous Professional Development) are something that all assessors have to practice, and this doesn't just mean maintaining and improving your assessor skills; it's also keeping your subject knowledge up to date.
Being Part of a Team
Assessors are required to act as part of a team along with other assessors, IQAs, managers, tutors and support staff, so teamwork is vital. You'll be expected to take part in standardisation events, often organised by the IQA, which are to ensure that everyone is assessing to the same standard and consistently across the whole team. After all, if new assessors join, then they can't just be thrown in at the deep end! Like any job, they need induction and mentoring from more experienced team members, which includes shadowing you on assessments to observe or carrying out assessments under your guidance.
Additional Responsibilities of an Assessor
Assessors have several additional responsibilities, which are more prominent these days than they were even a short while ago. This is partly due to changes in legislation and to the increased scrutiny and accountability which have been implemented in the education sector. These additional assessor responsibilities include:
Confidentiality – Assessors deal with personal information on a daily basis, such as candidates' contact details, results, performance, etc., all of which are covered by the Data Protection Act 2018 and GDPR. You can't discuss these details with other candidates, and you have to keep your records, notes and reports secure.

Compliance with regulators – Regulators including Ofqual, SQA, Qualifications Wales and a host of trade organisations are responsible for overseeing qualifications that involve assessments. As an assessor, it falls on you to uphold their requirements. These might be very specific, such as a minimum number of assessments per candidate or general ones, which apply widely, i.e. reporting cases of suspected malpractice to the centre manager.

Safety – Although you might hear people complaining about health and safety requirements, it's nonetheless critical, especially if you're assessing people in a practical setting. Assessors have a responsibility to ensure the safety of the candidates who are under their control, as well as others who might be affected by their actions.

Transparency – During the assessment process, transparency is important. Making sure that you pass on the assessment criteria, procedures, and outcomes to those involved (candidates, tutors, other assessors, IQAs, etc.) is crucial. This helps to maintain clarity for those involved and enables them to have trust, not just in you, but in the whole assessment and qualifications process.

Next Steps to Becoming an Assessor
Assessors play a pivotal role in training and education. They are the unsung heroes behind the scenes. Their job is not just about ticking boxes; it's about checking, monitoring, documenting, and observing, as well as working as part of a modern, accurate and professional team.
At Carlton Training, we offer several assessor training courses to help you kickstart or advance your career as an assessor. Our Level 3 CAVA course (Certificate in Assessing Vocational Achievement) course is ideal if you're looking to become a fully qualified assessor to work in any sector.
You can book online and get started today, or contact our friendly team for more advice on the best assessor qualifications and courses for your needs.
Next &nbsp&nbsp&nbsp&nbsp

›



‹

&nbsp&nbsp&nbsp&nbsp Previous

Back to Blog