January 10, 2023
What is an A1 Assessor Course?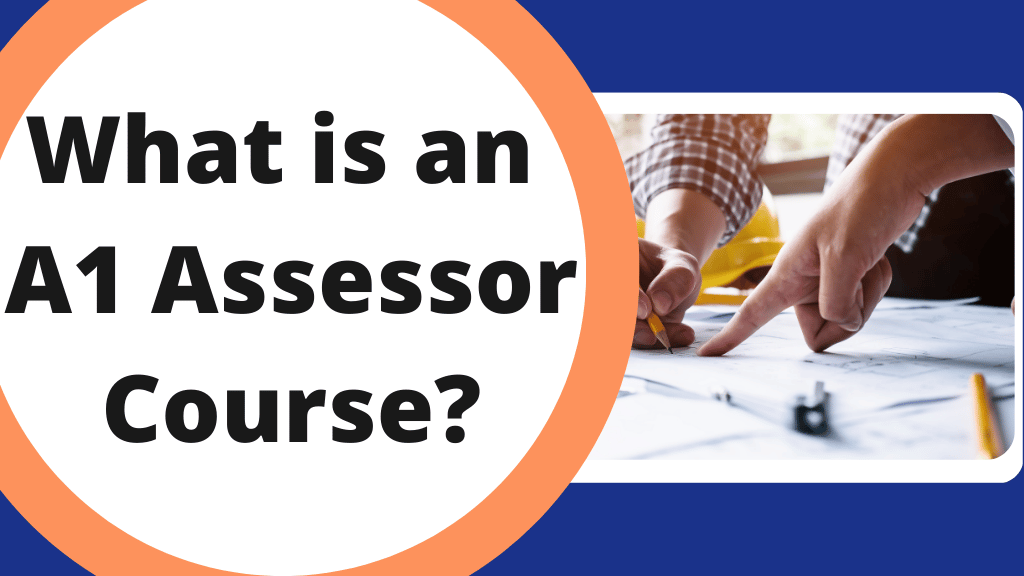 An A1 assessor course is often used to describe a training course for people who want to become qualified assessors. The official title of the assessor qualification gained is "A1 Assess candidate performance using a range of methods". Holders of an A1 assessor award typically have a broad background in assessing candidates through various methods.
However, the A1 assessor qualification has been withdrawn and is no longer available. It's since been replaced with new and updated courses to gain an assessor qualification.
Despite no longer being available, "A1 assessor courses" or "A1 assessor qualifications" are terms you have most likely heard people mentioning. Or you may have heard people say they are an "A1 qualified" assessor. You may also see these references on CVs or even in job specifications and job adverts for assessors.
While "A1 assessor" is still a popular term and is used regularly, it's a bit outdated because there aren't any A1 courses available at the moment, and there is no way for anybody to gain this qualification today!
Don't worry. You can still obtain Level 3 assessor qualifications!
How to Obtain Assessor Qualifications
Within the education sector, old or outdated qualifications are often updated with new ones.
In the case of assessor qualifications, the A1 assessor award was withdrawn and replaced with a whole range of flexible, unit-based qualifications.
These new qualifications form part of what is known as the TAQA suite of qualifications, with the most noticeable change being the range of assessor qualifications available.
This is great for learners looking for different things out of their assessor careers!
What is TAQA?
TAQA stands for Training Assessing Quality Assurance, which are the three areas within the learning sector that the TAQA suite of qualifications covers. As you can imagine, TAQA is made up of many different courses as it covers such a broad area within teaching and training.
TAQA Teaching Qualifications
For teaching qualifications, TAQA includes:
TAQA Quality Assurance Qualifications
Moving on to the TAQA Quality Assurance qualifications:
TAQA Assessor Qualifications
TAQA assessor qualifications include:
All four of these courses create a range of related courses rather than a straightforward replacement for the old A1 assessor qualification. 
All the qualifications within the TAQA suite are regulated by the awarding body, Ofqual, meaning they appear on the Ofqual Register of Regulated Qualifications and are on the Regulated Qualifications Framework (RQF). So you can be sure they have recognition in whatever sector you work in.
What qualifications do you need to become a qualified assessor?
You can take any of the assessor qualifications within the TAQA suite of qualifications to become a qualified assessor. However, the units your course covers will determine where and who you can assess.
There are three units covered in the TAQA suite's assessor qualifications, which are as follows:
1. Understand the Principles and Practices of Assessment
This unit is part of all the assessor qualifications. It contains the essential supporting knowledge of assessing that everyone involved with assessments needs.
2. Assess Occupational Competence in the Work Environment
This practical unit covers assessing learners in the workplace and their competency within their organisation.
3. Assess Vocational Skills, Knowledge and Understanding
Another practical unit, this time for assessing in a learning environment, such as classrooms and training courses.
What assessor qualification do you need?
If you're unsure of which assessor qualification is right for you, the easiest way to choose is to consider that they are all made up of different combinations of the three units listed above.
The Level 3 Award in Understanding the Principles and Practices of Assessment contains one unit and is considered a knowledge-only award. It's most suited for those starting their journey as an assessor or those who need to know about assessment practice but are not currently practising.
The Level 3 Award in Assessing Competence in the Work Environment contains units one and two. It's best suited for practitioners who assess the demonstration of competence in a work environment using methods like observation, examining work products, oral questions and discussions, Recognition of Prior Learning (RPL) and learner statements.
The Level 3 Award in Assessing Vocationally Related Achievement course contains units one and three, and it's best suited for practitioners who assess knowledge or skills in vocational subjects in workshops, classrooms and other learning environments. These practitioners typically use assessment methods like skill tests, oral and written questions, assignments, projects, simulated environment assessments, case studies and RPL.
The Level 3 CAVA Certificate in Assessing Vocational Achievement course contains all three units, which makes it the most popular course for those seeking a long-term career as an assessor. Practitioners who take the CAVA course use all of the assessment methods listed above.
Any course containing units two or three shows that you can assess candidates using a range of suitable methods, from their place of work to any training environment, just like the A1 assessor course used to.
Plus, you'll have the advantage of gaining the most modern and up-to-date assessing qualification available!
If you're still confused about the best assessor course for your needs, this handy guide should help!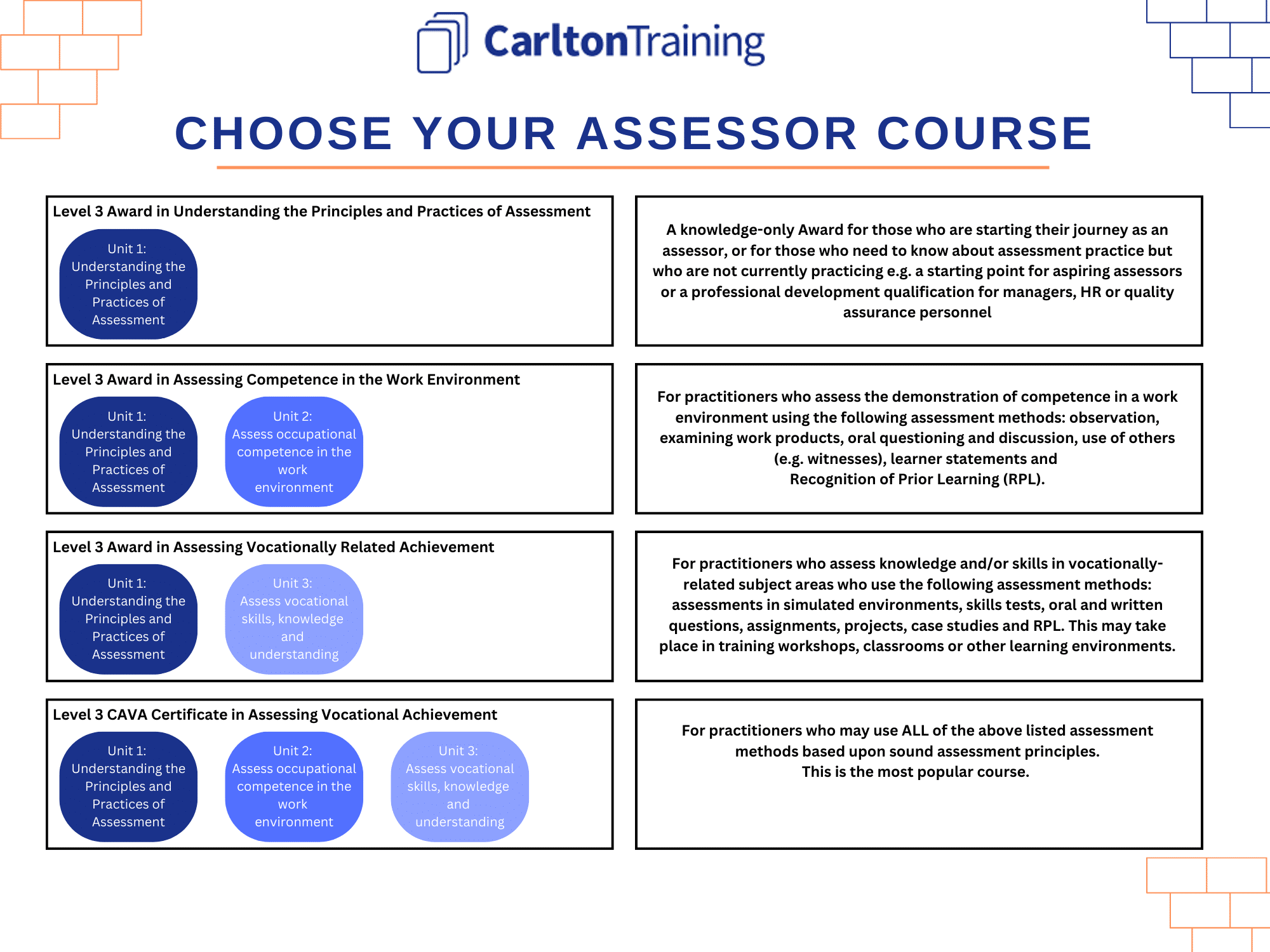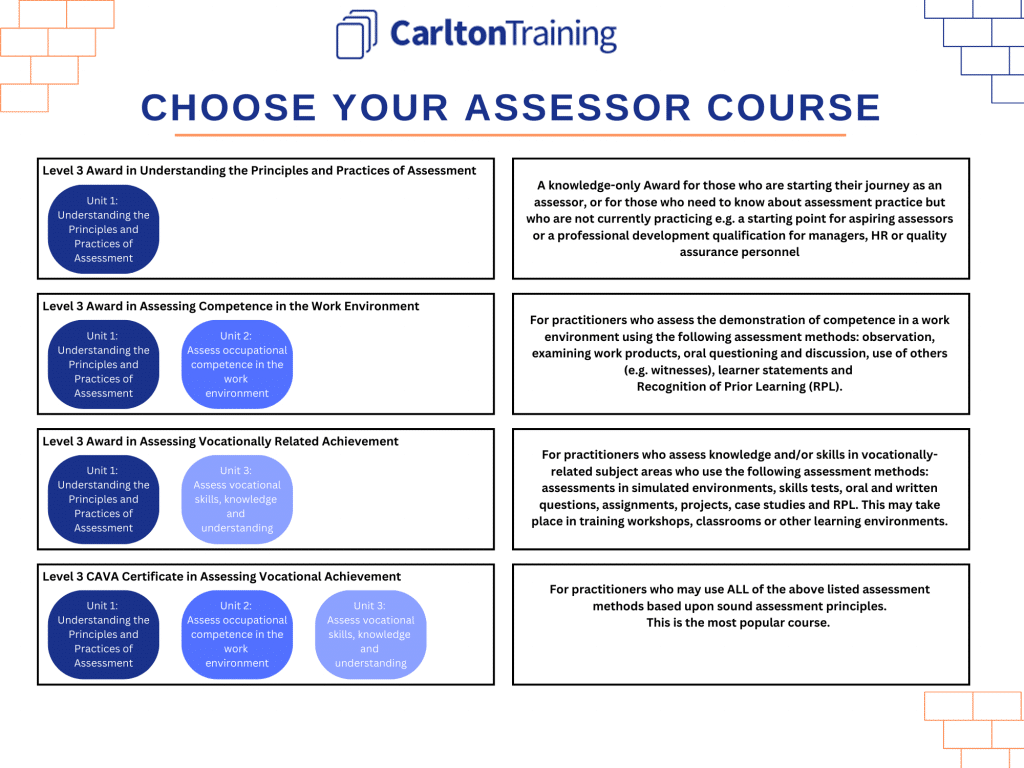 Which course is equivalent to the A1 assessor course?
All assessor courses within the TAQA suite have replaced the A1 assessor course, meaning they are all the modern equivalent. However, the most popular equivalent to the A1 assessor qualification is the Level 3 Certificate in Assessing Vocational Achievement (CAVA) qualification.
The CAVA qualification is the most popular equivalent because it contains all three units required to assess students in all environments. But it's worth noting that this isn't the most similar qualification out of all four courses available.
The most similar equivalent for the A1 Assessor qualification is the Level 3 Award in Assessing Competence in the Work Environment. This course closely matches the content, syllabus and learning outcomes of the A1 assessor course.
It's also slightly shorter and more economical than the CAVA course, as it covers two units rather than three. So if somebody tells you that you "need to get your A1 Assessors", then your best choice would be to take this one. 
Of course, you can always explain that their knowledge is out of date and the qualifications on offer have changed. However, you may want to try a different approach if this is your boss!
Perhaps something like "I've done some research, and the A1 assessor has a new name" might be a better choice!
At Carlton Training, our courses are led by genuine people with practical and real-life experience, which is what makes us a leading national training provider for teaching and assessing qualifications.
We are committed to helping people reach their full potential, and our team of experienced trainers are on hand to provide support and guidance every step of the way. 
If you are considering getting your assessor qualification, check out our assessor courses or call our team at 0207837 5677 to discuss which course you should undertake to suit your requirements best.
Next &nbsp&nbsp&nbsp&nbsp

›



‹

&nbsp&nbsp&nbsp&nbsp Previous

Back to Blog