January 9, 2023
What is a CPD course?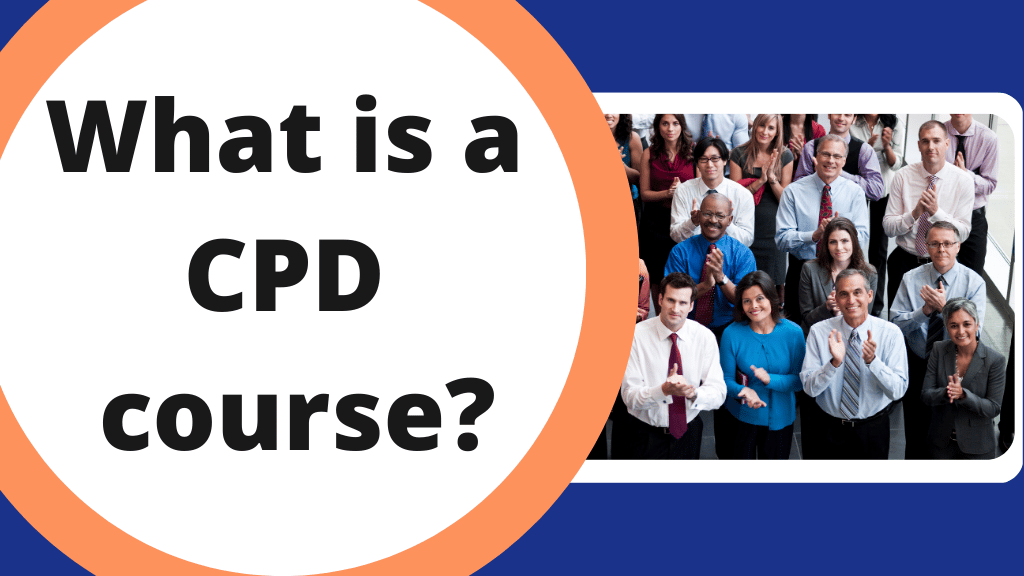 CPD stands for Continuing Professional Development (or Continuous Professional Development), and it's something that you are probably involved in, even if you don't call it by that name!
There are many reasons why you may take a CPD course, or take part in CPD in other ways throughout your professional career, such as:
To meet your job requirements
To improve your skills and knowledge in your industry
To earn further accreditations
We'll cover each of these and more later in this blog post, but for now, let's cover the basics!
What is Continuous Professional Development?
Continuous Professional Development is any study or activity aimed at helping you to maintain and improve your skills and knowledge in your particular field.
We refer to this as CPD because, well, it's simply easier to say and write! This is why you often hear CPD courses used to describe Continuous Professional Development courses.
It's worth noting that a CPD course doesn't necessarily have to be a formal training course. Plenty of other things make up the form of CPD within your industry! Chances are, if it's advancing your learning and development, it will count towards your CPD.
What are the types of CPD learning?
Alongside a CPD course, different forms of CPD you can undertake include:
Attending conferences and seminars related to your industry or subject.
Going to meetings with other teachers, assessors, or IQAs and EQAs in your organisation where updates, changes and new methods are discussed.
Reading the trade press or websites for your sector – nearly all sectors have a trade publication or magazine and an authoritative website. These are often great resources to keep abreast of developments and ensure you are up to date.
Signing up for newsletters from your Awarding Body (such as City & Guilds) is often a great way to ensure you know all about any changes to the qualifications, assessments and standards you are working with.
Collaborating with colleagues – teaching and assessing can sometimes feel like a solitary affair, but you'll have a whole cohort of colleagues from whom you can learn. So consider shadowing a colleague to observe them and think about asking colleagues to shadow you and provide constructive feedback. This can help your personal development by creating new connections and career development, so it's a win-win!
These are all conscious and proactive steps towards your CPD. As well as those self-directed CPD methods, which are often most helpful for your specific industry or sector, you could consider attending an accredited CPD course as part of your CPD.
Having a well-rounded CPD plan for your future goals is important, so we recommend a good mixture of the above list and engaging in a CPD course for the best chance to hit your career goals.
How does CPD benefit me?
Continued Professional Development (CPD) is an important aspect of being a teacher or assessor. It helps to ensure that you can provide high-quality education and support to your candidates. It also helps keep your knowledge and skills relevant in today's rapidly changing workplace and can help ensure that you comply with your employer's requirements and those from your awarding body.
Any form of Continuous Professional Development should help you feel more confident and motivated as you will learn new things, improve your skills and gain a large degree of autonomy in what you are doing within your career.
Should I take a CPD course?
A CPD course is typically designed to help education professionals keep up to date with the latest non-sector-specific developments and advance their professional knowledge and skills.
In particular, this includes things which could help you become better at the specific role you have, whether that's a teaching course to improve your teaching skills, an assessor course to learn modern assessment techniques and recognition, or a quality assurance course if you're involved with IQA or EQA work.
What are the benefits of taking a CPD course?
The advantages of taking a CPD course include:
Accredited CPD training means you get to participate in the process as a learner, which can make a pleasant change if you're usually the teacher or assessor.
A structured CPD course (whether online or face-to-face) gives you certainty about what you will achieve. With the other CPD activities mentioned above, it's unclear what your outcome will be from the outset. With a CPD course, you know what you will cover and will receive a CPD certification at the end of it.
As a teacher or assessor, keeping track of your CPD is often a job requirement. Your human resources department, IQA or EQA will likely want you to record and prove this throughout your time in your role. Choosing a CPD course makes this easy. It has a start and finish date and, usually, certification. This makes documenting your CPD much easier than some of the non-course options.
What are CPD-accredited courses?
CPD-accredited courses have a CPD accreditation awarded on completion. Although your CPD
accreditation is important (and something your HR, IQA or EQA will be looking for when assessing your overall CPD), there are many other benefits to taking a CPD course.
Taking a CPD course can help you to:
Improve your skills and knowledge.
Advance your career and increase your earning potential.
Stay competitive in the job market.
Gain new perspectives and ideas.
Maintain professional recognition.
Improve the quality of your work and the services you provide.
Remain engaged and motivated in your profession.
All of which will provide you with more knowledge and experience within your current role. Ultimately, this will work towards your career goals as well as ticking some necessary boxes along the way!
Looking to build your skills and knowledge with a CPD course?
At Carlton Training, our Continual Professional Development course for teachers, instructors and assessors will teach you how to provide effective feedback strategies for your learners.
If you're looking to source your next CPD course, look at our dedicated CPD training course or any of our instructor and assessor courses or call our team on 02078375677 to discuss further.
Next &nbsp&nbsp&nbsp&nbsp

›



‹

&nbsp&nbsp&nbsp&nbsp Previous

Back to Blog