December 18, 2018
Assessing in the Work Environment
If you have ever thought about becoming an assessor? Perhaps your employer runs training courses and you want to be involved, or you're looking for a new career, promotion or indeed a pay rise (are you reading this boss?) then you've most likely had a look at the assessing qualifications available.

It's at about this stage that some people roll their eyes in despair and confusion due to the plethora of oddly named courses and qualifications out there. Don't be one of those people!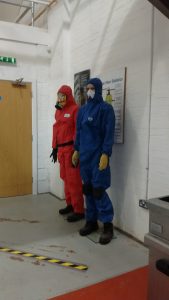 There's a simple solution to help you decide, just ask yourself if you are going to be assessing people doing work ie. actual things that they are paid to do, and it the answer is yes then you'll need to take the course Level 3 Assessing Occupational Competence in the Work Environment (RQF) which is normally held over three days. Yes, that's right, a basic three day course is going to get you qualified to be an assessor in your workplace.
This qualification is divided into two units or sections which you will need to complete, the first unit is called Understanding the Principles and Practices of Assessment and just like Ronseal it does what it says on the tin. You'll get an understanding of the theory side of assessment, including:
The strengths and limitations of a range of assessment methods
Factors to consider when planning an assessment
Reducing risks that may be involved in assessment in your own area of responsibility
Minimising risks through the assessment planning process
Involving the learner and others in the assessment
How to ensure that assessment decisions are made against specified criteria
The importance of quality assurance in the assessment process
The relevant procedures to follow when there are disputes concerning assessment
Legal issues, policies and procedures relevant to assessment, including those for confidentiality, health, safety and welfare.
In short, you'll cover exactly what anybody involved with formal assessments needs to know. By then time you have completed this unit you'll be fully up to date with what assessors are supposed to do, what is expected of them and how to start getting ready to crack on with real life assessing. The other thing you will achieve by going through this sections is that you will become fluent in the lingo and jargon of assessments.- always important for any new venture!
The second unit or section of this called Assess Occupational Competence in the Work Environment, and this is the bit where you actually get to start planning and carrying out real assessments. You'll be guided through the different techniques which you can use to assess your candidates, including:
observation of performance in the workplace
examining products of work
questioning the learners
discussing with learners
use of others (witness testimony)
looking at learner statements
recognising prior learning
Plus you'll get to put into practice the things you covered in the first unit. Your tutor will observe you carrying out some real-life assessments.
Once you have completed this you'll then be a fully qualified assessor, able to carry out independent assessments of candidates in their own workplaces – it's a simple at that.
Check out our photo above from our course attendees who have completed their Level 3 Assessing Occupational Competence in the Work Environment (RQF) qualification and are now assessing at their own construction training centre.
Next &nbsp&nbsp&nbsp&nbsp

›



‹

&nbsp&nbsp&nbsp&nbsp Previous

Back to Blog