September 6, 2022
What Qualifications Does a Trainer and Assessor need?
Trainers and assessors are in demand in a variety of sectors. Being a trainer and assessor is an important responsibility, both in industry and within the education and training, as you'll be supporting students to earn their qualifications to bring them closer to their goals.
In order to work as a trainer and assessor, you will need accredited qualifications in both education and training and assessing. Essentially, we must "train the trainer" with to ensure they can train within a professional environment and also assess candidates fairly and accurately.
To become a qualified trainer and assessor, you'll need:
A qualification from an accredited trainer course
An award or certificate in assessing
Continue taking part in professional development events or courses to keep your skills and knowledge up to date.
At first glance, "trainer" and "assessor" might not seem to be very different, but they are quite distinct. When you become a trainer and assessor, you take on two similar (but also different!) roles. Both of these require you to have separate education and training qualifications.
What Are The Responsibilities Of A Trainer And Assessor?
As a trainer you'll often be:
teaching your skills and knowledge to other learners
designing and delivering training courses and lessons
updating training records for your organisation
Whereas being an assessor involves:
checking students against set standards for your organisation or Awarding Body
finding out if people have met the desired learning outcomes
giving feedback to candidates to help and guide them
In the past, these roles were kept very separate, with trainers focused on training students and assessments being carried out by traditional exams – you're probably familiar with these from your school days!
Nowadays, the learning environment has moved on and it's widely recognised that relying entirely on a single, written exam at the end of a training course isn't always the best method. This is especially the case when you might be dealing with subjects which involve a practical element and e-learning setups.
You'll find that instead of exams, training courses tend to involve a lot more assessment during the course itself, often carried out by the same person that does the training. And this trainer could be you!
With the dual role of trainer and assessor, you'll usually need specific qualifications in both areas. These qualifications are used to "train the trainer" and once awarded, they prove that you can both teach people effectively and test or check them fairly and accurately.
Exactly which training courses you'll need to take often depends on the requirements set by the Awarding Body you are dealing with. Awarding Bodies are the organisations that set the standards for training and assessment and are also the ones who issue your learners with their qualifications.
These Awarding Bodies used to be called Exam Boards, but since exams are no longer the only (or even the main!) method for assessment, the title they use has been updated.
So it's important to check with the Awarding Body you're dealing with and follow their guidance on the required training courses.
If you're not working with an Awarding Body, you might well have a regulator or industry body/trade organisation that sets these trainer qualification standards, so you can check with them to ensure you choose the right trainer courses for your personal and professional career goals.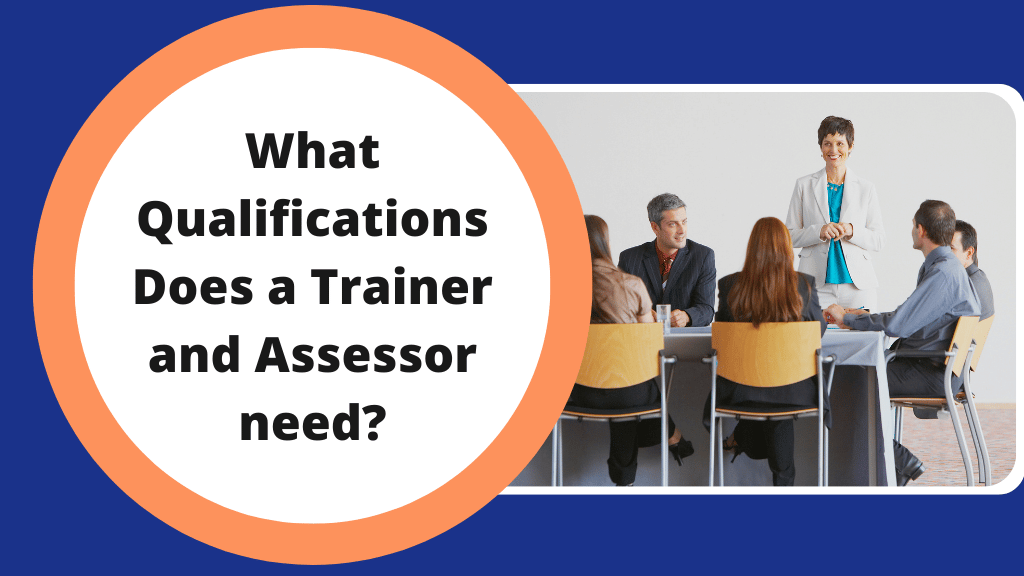 What Trainer Qualifications Do I Need?
In the UK, requirements for trainer qualification are not standardised, meaning each organisation has their specific requirements and these usually include appropriate qualifications in training and assessment.
There is a wide range of training courses you can take to access this career path. We'll walk you through the most popular below.
Level 3 AET Award in Education and Training
Within the education and learning sector, the most common minimum requirement for being a trainer is the Level 3 AET Award in Education and Training. It is also the most popular route for people wanting to be trainers as it's incredibly accessible, can be carried out online and it's recognised by an Awarding Body.
The Level 3 AET is an introduction to teaching and training where you will learn how to plan and teach lessons, how to support your candidates with their learning and make sure that they are coping with the lessons.
The good news is that you can gain this qualification quickly via our online training, and you'll achieve a recognised City & Guilds certificate.
Level 4 CET Certificate in Education and Training
Your employer, or Awarding Body, may insist on you gaining a Level 4 teaching qualification to advance your career – especially if you've already got the Level 3 AET. If this is the case then the best training course for you to go for is the Level 4 CET Certificate in Education and Training.
This trainer qualification provides you with a nationally recognised City & Guilds certificate but it does need more time to complete. Compared to the Level 3 AET which may be a matter of days, your Level 4 CET will usually take a few weeks to gain your qualification.
What Assessor Qualifications Do I Need?
To become an assessor, there is a wide range of qualifications for you to choose from. Similar to trainer qualifications, the assessor qualifications you need will depend on your organisation's requirements, as well as the Awarding Body.
That being said, the most popular and highest regarded assessor qualifications are below.
Level 3 CAVA Certificate in Assessing Vocational Achievement
The most popular assessor qualification is the Level 3 CAVA Certificate in Assessing Vocational Achievement, which is widely quoted by regulators and Awarding Bodies as a requirement for people involved in assessing their qualifications.
One reason for its popularity must be is acronym CAVA, pronounced like carver, which trips easily off the tongue!
Joking aside, the main reason why it's such a highly regarded course is that it's quite a comprehensive qualification. The Level 3 CAVA covers not only the theoretical background of assessing learners but also the practical parts of assessing students both in learning settings and in the workplace.
In terms of time commitment, you can expect a similar level of time commitment to gain your Level 3 CAVA as what you'd need to dedicate for your Level 3 AET.
Level 3 Award in Assessing Vocationally Related Achievement
There are a couple of slightly shorter course options to consider within assessment training, including the Level 3 Award in Assessing Vocationally Related Achievement, which covers all the theories included in the Level 3 CAVA course but less of the practical section. For the practical elements, it focuses on only the practical part for assessing in learning settings.
Level 3 Award in Assessing Competence in the Work Environment
Another great choice is the Level 3 Award in Assessing Competence in the Work Environment, which again covers the same theory as the Level 3 CAVA but the practical portion of this course is focused on assessment in the workplace.
Both of these training qualifications are nationally recognised and although they don't have neat acronyms (fancy getting an AACWE or AAVRA anyone?) may be the best route for you to be qualified as an assessor.
Not only are they slightly shorter, and cheaper, than the full Level 3 CAVA course but they also offer you a way of gaining up-to-date certification for your career in learner assessment.
What To Do After You're Qualified
Once you've earned your training qualifications, you'll need to keep them up to date.
Both Awarding Bodies and employers are keen on promoting Continuing Professional Development (CPD). This means taking part in activities and events within your industry that keep your knowledge in your subject area, training and assessing sharp and up to date.
After all, being a trainer and assessor is an important responsibility and nobody wants to be taught or assessed using out-of-date information, support or techniques.
In today's fast-moving world, Awarding Bodies, employers and candidates are demanding accurate, high-quality training and assessment. With the right qualifications, you could be the person providing this and there's no better place to start than one of our trainer courses.
To find the most suitable qualification for you to further your professional career within the education and training sector, head to our Teacher & Instructor Courses directory or you can visit our Assessor Courses directory for all the information on our assessment training.
Next &nbsp&nbsp&nbsp&nbsp

›



‹

&nbsp&nbsp&nbsp&nbsp Previous

Back to Blog