December 20, 2022
How Long Does It Take to Complete a DET?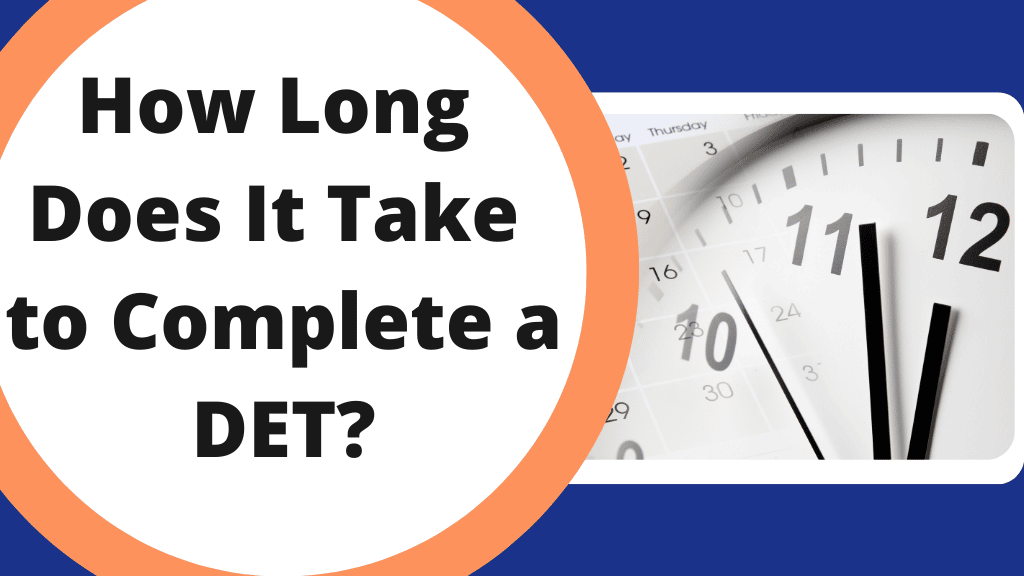 If you are considering taking a DET course, you may be wondering how long it will take to complete. The good news is that with the right approach, you can successfully complete a Level 5 DET course in a relatively short amount of time.
Don't misread this, it's worth remembering that this is a substantial course, and you'll need to put in a decent amount of effort to qualify. After all, if these certificates were given away in cornflakes packets, they'd be worthless!
Before we dive into why you're here, let's cover a few basics about the DET qualification.
What is a DET?
The DET definition is an abbreviation for Diploma in Education and Training. Specifically, it is the Level 5 Diploma in Education and Training course.
Completing the Level 5 Diploma in Education and Training earns you a teaching qualification. This qualification is designed for those already working in the education sector or individuals wishing to work as teachers or trainers. It also enables you to apply for registration as a qualified teacher in England.
What are the Level 5 Diploma in Education and Training course entry requirements?
The Level 5 DET course does not have any formal entry requirements. This means that you do not need to take a course like the Level 4 CET before you take this Level 5 course.
How long does a DET take to complete?
Let's first consider what the awarding body, City & Guilds, thinks about the anticipated time needed to complete the Level 5 Diploma in Education and Training. They use guidelines described as Guided Learning Hours (GLH).
Guided Learning Hours are the total hours of taught or directed study time required to complete and finish a qualification. GLH figures are an Ofqual requirement for every Awarding Body to provide about each course.
For the Level 5 DET, the GLH figure is 360 hours. Those hours are broken down as follows:
Mandatory units
There are four mandatory units within the DET, which everybody taking the qualification needs to complete. The 4 mandatory units and their GLH are:
Teaching, learning and assessment in education and training (20 credits) GLH= 65 hours
Developing teaching, learning and assessment in education and training (20 credits) GLH = 65 hours
Theories, principles and models in education and training (20 credits) GLH = 60 hours
Wider professional practice and development in education and training (15 credits) GLH = 50 hours
Optional units
You might be wondering where the other 120 hours have come from!
You'll also need to complete some optional credits, which is where the rest of the GLH is made up.
Fortunately, there are a wide number of optional units to choose from. This means that you can pick what interests you or what is best suited to your field of work or subject area.
You will need to amass at least 45 credits from your optional units to meet the requirements to complete the course.
Popular choices for optional units include:
Developing, using and organising resources in a specialist area (15 credits) GLH = 50 hours
Inclusive practice (15 credits) GLH = 50 hours
Teaching in a specialist area (15 credits) GLH = 50 hours
Understanding and managing behaviours in a learning environment (6 credits) GLH = 20 hours
Managing behaviours in a learning environment (6 credits) GLH = 20 hours
Evaluating learning programmes (3 credits) GLH = 15 hours
… And the list doesn't stop there!
How many hours of study does the Level 5 Diploma in Education and Training take?
Your exact tally of Guided Learning Hours could vary quite a bit, depending on which combination of optional units you choose. This means that you may find you exceed 360 hours.
On top of that, awarding bodies are now required to state figures called Total Qualification Time (TQT) for all qualifications that they offer. TQT is defined as "the total amount of time, in hours, expected to be spent by a learner to achieve a qualification. It includes both Guided Learning Hours and hours spent in preparation, study and assessment."
The TQT for Level 5 DET is 1200 hours.
Even with all of this information, it's important that you don't rely on GLH or TQT to accurately work out how long you will need to complete your Level 5 DET. As you're undoubtedly aware, we're all different, and everyone learns at their own pace, so a one-size-fits-all formula is not suitable in this instance.
At Carlton Training, we have been offering this course for many years, and our team of dedicated teacher trainers have taught many candidates from all backgrounds. Our trainers have taught at all sorts of schools, companies and institutions.
As you might imagine, we've had the full gamut of candidates. From those who have completed their course very quickly to those who have taken much longer to finish. Remember, there's no "typical" or "normal" learner, so it's not possible to say how quickly any one person will finish.
So make sure you keep this in mind if you are researching the Level 5 DET to see if it's the right choice.
How long do students take to complete the DET course?
Our team estimate that the median candidate would complete their DET qualification within six months of starting.
This assumes devoting an equivalent of one day per week to their studies. This does not include the time needed to plan and teach the required 100 hours of teaching, nor the optional units each candidate may choose.
Remember that planning can sometimes take as long, or even longer, than the teaching itself.
To work this out, let's allow 200 hours for both planning and teaching. Then we'll add that to the 208 hours of study/learning (26 weeks x 8 hours). This brings us to 408 hours.
Let's estimate another 150 hours for optional units, bringing us to a grand total of 558 hours.
If we divide that by 8 hours to represent a typical workday, that brings us to just under 70 days.
With this formula, you can estimate that you would need 70 days in total to complete the course and qualify.
It's worth stressing again how different we all are in terms of learning speed and time available, as well as how our individual lives vary regarding work and family commitments!
At whatever pace you work on the Level 5 DET, it's bound to be time well spent. After all, you're making the best investment by investing in yourself!
Gaining this education and training qualification is a fantastic way to become a qualified teacher, boost your career and improve your status within your sector.
Next &nbsp&nbsp&nbsp&nbsp

›



‹

&nbsp&nbsp&nbsp&nbsp Previous

Back to Blog