August 21, 2023
How to Become an NVQ Assessor in 4 Steps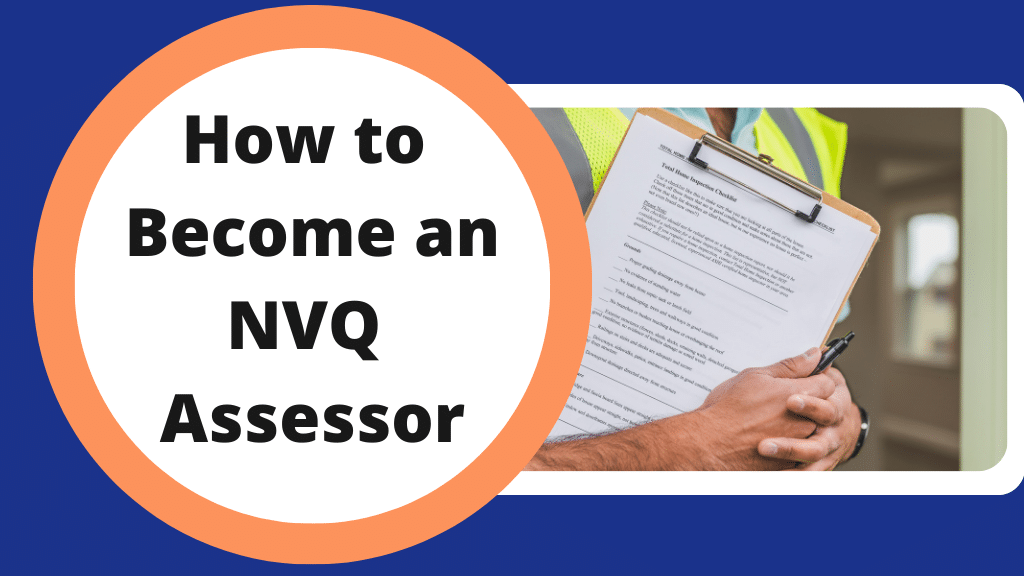 Stepping into the world of assessing can be a fulfilling venture, especially for those seeking to make a tangible difference in the development and growth of others.
Becoming an NVQ assessor is a promising career choice, with a wide variety of course providers and qualifications around the country needing assessors. If you're intrigued by this path, here's a guide on how to become an NVQ assessor:
What is an NVQ?
An NVQ, or National Vocational Qualification, is a work-based qualification in the UK. They range from Level 1, which represents basic job activities, to Level 7 for higher managerial roles.
Having an NVQ qualification demonstrates that the individual can perform the tasks and duties of a certain type of job to the standards required by the qualification.
When taking an NVQ qualification, individuals are usually assessed at their place of work. These assessments can often be tailored to their specific workplace which makes NVQs versatile and widely accessible qualifications. 
What is an NVQ Assessor?
NVQ assessors work across various sectors and industries, ensuring that learners meet specific standards to achieve their qualifications. As an NVQ assessor, you'll be responsible assessing the skills and knowledge of learners to confirm their capabilities in a particular job role.
Gone are the days of formal exams where people nervously sit in a hall with a giant clock ticking away while nervously trying to write their answers!
In the modern era, assessments are carried out by all sorts of methods, such as observing candidates performing work-related tasks, looking at the products or services they produce, asking them questions, checking with their supervisor or manager, etc. This is where the role of an NVQ assessor will take you if you decide to pursue it – not invigilating an exam in silence, but going to see real people doing real things in their workplaces.
In Scotland, NVQ assessors are known as SVQ assessors, with SVQ standing for Scottish Vocational Qualifications.
Qualifications Needed to Become an NVQ Assessor
If you are interested in working as an NVQ (or SVQ) assessor, then you are going to need to become a qualified assessor. There are several assessor courses available and these are the two that are most widely taken by qualified NVQs.
The CAVA course is designed for those who plan to assess both occupational competence in the workplace and vocational skills, knowledge, and understanding in environments other than the workplace (such as workshops, classrooms, or other training environments). It is the most widely known assessor qualification.
This qualification is tailored for those who specifically assess occupational competence in the workplace, making it ideal for people wanting to be NVQ assessors. It's also a shorter and more economical course than the Level 3 CAVA.
Before taking an assessors course, you should have demonstrable expertise and a background in the subject sector you intend to assess. This could be from your current job, previous career roles or even things you have done while volunteering in your spare time.
4 Steps to Becoming an NVQ Assessor
Becoming an NVQ assessor is similar to any other route if you want to become a fully qualified assessor. Let's break it down into a few simple steps.
Step 1: Gain industry experience
As you will be assessing learners within your chosen sector, you will be expected to have prior experience in this industry, even before you take your assessor's qualification. So you'll need to be involved with the sector you're interested in. Remember that assessors don't just assess theoretical knowledge but also practical skills too, so you'll need to be familiar with the field.
Step 2: Choose an assessor's course
As mentioned previously, a CAVA qualification is more extensive and versatile, especially if you want to go on and assess things outside the NVQ world. Whereas, if you're looking to become an NVQ assessor and don't want to venture outside of that, the Level 3 Award in Assessing Competence in the Work Environment is shorter and more targeted for NVQs.
Whichever course you choose, engage actively with the course content. Both courses encompass a blend of theory and practical assignments. This will also help you develop your portfolio, showcasing your competence as an assessor.
Step 3: Find an NVQ assessor position
Look for opportunities in educational institutions, professional training companies, or businesses that offer NVQs. When you first start as an NVQ assessor, you might start as a junior or assistant assessor before moving on to more senior assessor roles.
Step 4: Practice Continuous Professional Development (CPD)
The educational sector is ever-evolving. So it's important that you embrace opportunities for further training, attend seminars, or undergo additional courses to stay updated and enhance your skills.
At Carlton Training, we provide both the Level 3 CAVA and Level 3 Award in Assessing Competence in the Work Environment. Our courses are meticulously crafted to provide the necessary skills and knowledge you need to excel as an NVQ assessor.
We believe in creating assessors equipped with the right blend of knowledge and practical experience. Our assessor courses are designed to provide:
Expertise: Our tutors all come with extensive industry experience and knowledge, ensuring you get the best learning experience.
Flexible Learning Modes: Whether you prefer face-to-face training at your company or online learning, we cater to diverse learning needs.
Comprehensive Support: Whatever training you do, you'll be allocated a named tutor from our team who will be your help and guide to get your qualification.
Recognised Certification: The qualifications we offer are nationally recognised by some of the UK's leading Awarding Bodies and are well-known across the NVQ sector.
Becoming an NVQ assessor is not just about meeting industry standards but also about shaping the future workforce. If you're passionate about this and want to make a mark in the education sector, take the leap with our assessor courses. Elevate your career and make a difference today by booking an assessor course with Carlton Training.
Next &nbsp&nbsp&nbsp&nbsp

›



‹

&nbsp&nbsp&nbsp&nbsp Previous

Back to Blog