July 18, 2022
What does an IQA do? Your Comprehensive Guide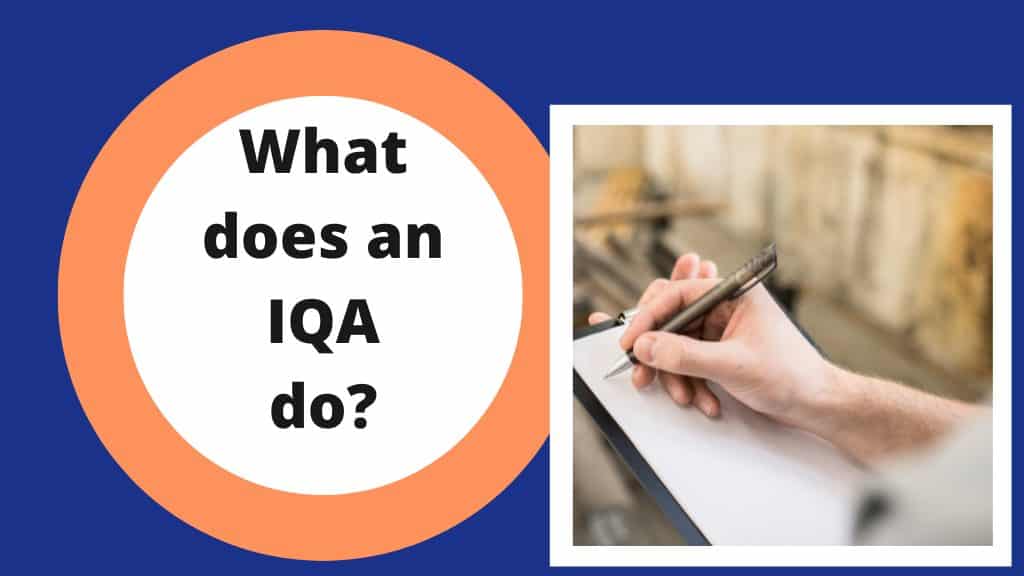 If you work in education or training, whether you're with the training department of a a company, a college, a school or a dedicated training organisation, you've probably come across an Internal Quality Assurer (IQA). That encounter is likely closely followed by "what does an IQA do?" running through your mind.
You might have met them in person, spoken to them on the phone or been included in an online meeting with them.
On the other hand, you might feel that your IQA is a mysterious person, whispered about by trainers, teachers, and assessors, but never actually visible to you. You know they "do" Internal Quality Assurance, but that's about it.
Somehow, like The Scarlett Pimpernel, your IQA might make themselves known by their reputation, actions, and their effects rather than any real-life sightings. All this might well make you wonder what it is that an IQA actually does.
Let's break down what exactly Internal Quality Assurance entails, the key responsibilities of an Internal Quality Assurer, and what the role of an IQA looks like behind the scenes.
What is Internal Quality Assurance?
Internal Quality Assurance is an process that aims to ensure the integrity and quality of assessment in work carried out. Even before learning begins, IQA may monitor the enrolement and interview processes, as well as the entire process of learning to completion and final assessment.
What are the responsibilities of an Internal Quality Assurer?
If you're wondering "what does an IQA do?" then it's likely you've come across an IQA in one of the following common areas of responsibility they have in an organisation:
Providing constructive feedback on the performance of trainers and assessors
Supporting trainers and assessors
Ensuring the standardisation of assessment methods, an Internal Quality Assurer will collaborate with assessors, trainers, and employers.
Sampling assessment documents and decisions
Get in touch with students to discuss their work and assessmnt results
Checking that assessors are qualified for their position.
Planning and executing monitoring activities
Identifying and developing best practices at all levels of an organisation
Now let's take a deeper look into some of the key areas of responsibility for an Internal Quality Assurer (IQA) and review the professional skills and knowledge required for leading quality assurers.
Compliance
If your organisation is offering regulated qualifications, that is recognised qualifications or certificates which are issued by an Awarding Body, then there are going to be some important standards which you'll have to comply with.
These are set by the Awarding Body to make sure that its qualifications are being properly issued and candidates are being properly assessed in a fair and consistent manner.
The IQA's role here is to make sure that these standards are being complied with, and that there's an audit trail to prove to the Awarding Body should they check. That's why you'll often find that Internal Quality Assurers are keen on documenting assessment records, checking that candidates' work is accessible and making sure that assessors and teachers give candidates written feedback.
It's not that the IQA's love paperwork (okay, maybe some of them do!) but that they're making sure that the whole organisation is complying with the requirements for the qualifications being provided. This makes sure that the Awarding Body can see that you're all doing things properly when they check.
By doing this the IQA will help to ensure that there won't be any problems when the Awarding Body checks up.
Consistency
As human beings, we are all different, with varying personalities, attitudes, abilities and approaches to life. It's unusual to find two people who are exactly alike.
However, when assessments, such as observation of candidates, is taking place, we must do so consistently, that is the same way and to the same standards. Because we're all different this is sometimes hard to do and left to our own devices we'd all end up doing widely different things.
Thus, it's the Internal Quality Assurer (IQA)'s role to keep assessors and teachers on the straight and narrow path and make sure everybody's doing things the same way. This could be looking over your written work such as reports and assessment documents and comparing it with other people in the team.
They might then advise you or hold team meetings where common approaches are agreed on.
Sometimes an IQA might come and actually watch you working while you are making assessments of candidates.
Don't worry – they're not looking to find fault with you training and assessment but are rather sampling what you are doing to make sure it's consistent with not only what you should be doing but also compare it with what other people are doing.
Of course, having the IQA monitoring you, and often jotting stuff down on a clipboard or tablet, can seem disconcerting but it's all in the name of consistency and quality assurance of assessment.
Keeping Up to Date
Whatever industry or sector you are working in, there are bound to be changes and developments as years go by. These could be new technologies, new ways of doing things, new inventions or even entirely new procedures which did not exist in the past.
If you think about how things were when you first started out at work, and if that wasn't so long-ago thing about what some of your colleague' experiences they might have mentioned – thing are bound to be different now in many ways. If you're mainly teaching and assessing it's sometimes easy to fall behind a bit with what is going on in your sector, teaching and assessing is busy work!
That's why your IQA will be monitoring and making sure that everyone in the team keeps up to date with their subjects, whether that's with update training, going to conferences, seminars and so on or even just getting the regular industry publications and announcements.
The IQA will also make sure that the whole organisation is kept up to date with change made by the Awarding Body. These could be new qualifications, changes to how assessments must be carried out, procedures for candidates with special requirements as well as new documentation and recording standards for assessments.
You know how many places have somebody who's always on about the latest developments and what's changing? Well in education and training that's the IQA's remit!
On top of all this, an IQA needs to make sure the whole teaching and assessing team meet the requirements set down by the Awarding Body regarding teaching and assessing qualifications.
In the past it was often enough to have experience or learn as you go along, but now most Awarding Bodies require assessors and teachers/trainers to have qualifications such as Level 3 CAVA or Level 3 AET – or at least to take steps to actively gain these within six months of starting.
It often falls to the IQA to make sure this actually happens, both with new joiners and also long-established team members who might have started their career long before these requirements were made.
Summing up: What does an IQA do?
You can see that what an IQA does can be wide-ranging and varied in what they are responsible for. They're not just snooping around with a clipboard and pen all day! An IQA is an essential element in making sure that the whole assessment and teaching process is carried out properly and can stand any scrutiny.
At Carlton Training, we offer our internal quality assurance training to those who are required to conduct and manage quality assurance in the workplace. Being guided by one of our highly qualified tutors, you will become fully equipped with the skills needed to undertake and manage the quality assurance process. Click here to learn more about our comprehensive training courses for IQAs.
How do I become an IQA?
Once you've decided you are interested in becoming an IQA, you must first complete an IQA course and then acquire the appropriate level of certification.
There are three distinct IQA qualifications, each of which confers varying levels of responsibility within the role.
Level 4 IQA Award in Understanding the Internal Quality Assurance of Assessment Processes and Practice (RQF)
This course is ideal if you want to get an introduction to internal quality assurance, without the need to undertake any practical work. This course is suitable for all sectors where the assessment of both accredited learning and non-accredited learning is taking place.
Level 4 Certificate in Leading the Internal Quality Assurance of Assessment Processes and Practice (RQF)
The course is perfect if you currently work as or want to start working as a lead qualified internal verifier or lead internal quality assurer. This includes all sectors where assessment of accredited learning and non-accredited learning is taking place.
Level 4 IQA Qualification in the Internal Quality Assurance of Assessment Processes and Practice (RQF)
Our internal quality assurance training course is perfect if you currently work as or want to start working as a qualified internal verifier or internal quality assurer. We open this course to all sectors where the assessment of accredited learning and non-accredited learning is taking place.
For more information on all of these qualifications, check out our post on what qualifications you need to become an IQA.
Next &nbsp&nbsp&nbsp&nbsp

›



‹

&nbsp&nbsp&nbsp&nbsp Previous

Back to Blog