October 19, 2022
What Is a CAVA Qualification?
The CAVA qualification is the most popular and widely recognised assessor qualification. It is a Level 3 award designed to give individuals the skills and knowledge needed to assess their learners in both workplace settings, such as on-the-job training, as well as in learning environments, such as more traditional training courses.
What does CAVA stand for?
CAVA is an acronym which stands for Level 3 Certificate in Assessing Vocational Achievement. As you can see, this is perhaps not the catchiest of titles, so it's easy to see why the habit of calling it CAVA has caught on!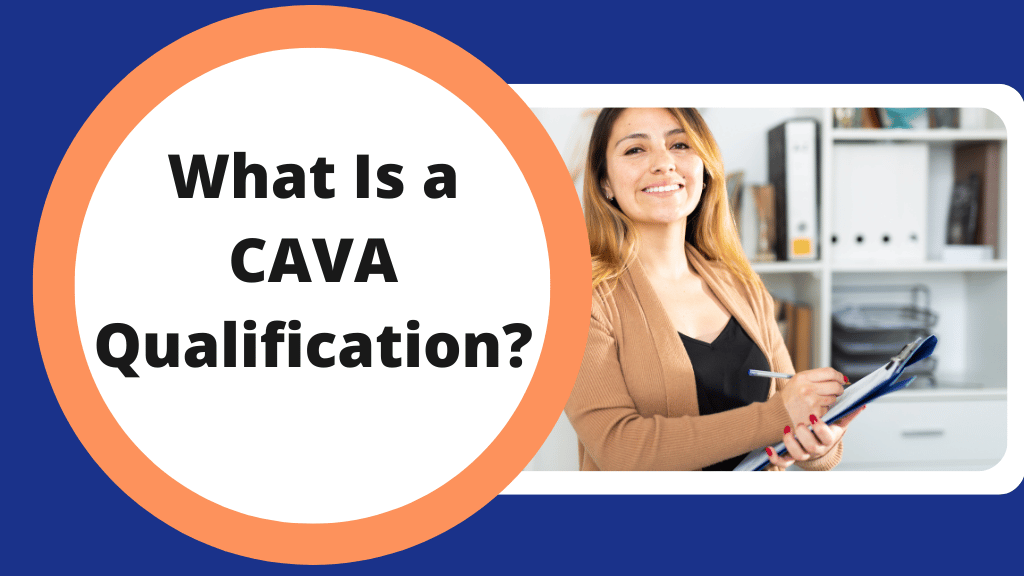 What Is a CAVA Qualification?
In terms of knowledge, the CAVA course covers all the essentials you need to become a qualified assessor and understand assessing in the modern world. Gone are the days when a single exam or a short burst of "finals" dictate whether or not somebody qualifies.
These days, assessors are expected to be able to understand and implement a wide variety of assessment methods. They also have to take into account the requirements set by employers, awarding bodies, legislation and regulators in ways that in the recent past they did not.
The CAVA qualification covers all this, and it can serve as proof that you truly understand your obligations as an assessor.
If you're thinking about becoming an assessor, then you should consider the CAVA qualification as not only giving you a nationally recognised qualification but also proving your commitment to carrying out modern and effective assessments.
You should take into account that becoming a qualified assessor can be a great way to enhance your career. It will show that you are committed to helping your candidates achieve success for themselves, and also demonstrate to employers that you are serious about having a nationally recognised qualification to prove it.
What can I do with a CAVA qualification?
By having a CAVA qualification on your CV, you'll also become more attractive to employers involved with qualification, whether they are a training company or college offering qualifications to candidates or students, or an employer carrying out staff training.
This is partly because many Awarding Bodies require that any centre offering their qualifications has properly qualified assessors to carry out the required assessments. Since CAVA is the most widely recognised assessor qualification, you'll be able to slot into the assessor role straight away without the need to gain additional qualifications.
Gaining your CAVA qualification boosts your professional standing and shows that you're able to comply with the requirements put in place by Awarding Bodies. If you're looking for a promotion, career opportunities or advancement in any sort of education, training or learning role then being known as "the assessor" with a qualification to back you up will be to your advantage.
Like many subject areas, assessing has its own specialist terminology or jargon. These are words and phrases which are either unique to assessing or mean specific things in this context. One of the advantages of taking the CAVA course is that you'll become familiar with this terminology and be able to understand the assessment process as a whole.
You'll also cover some important practical skills on your CAVA course, such as planning assessments and then carrying out the assessments you have planned, both in the workplace and learning environments.
The CAVA course covers a wide variety of assessment methods, which you will become familiar with and have a chance to implement during the course.
The CAVA course assessment methods include:
Observation of performance in the work environment
Examining products of work
Questioning learners
Discussing with students
Using witness testimonies
Looking at learner statements
Recognising prior learning
Assessment of learners in simulated environments
Skills tests
Oral and written questions
Assignments
Projects
Case studies
Don't worry if any of this sounds unfamiliar, the CAVA course covers it all and more!
How do I get a CAVA qualification?
To obtain your Level 3 CAVA Certificate in Assessing Vocational Achievement you can take our online CAVA course. The three units within the online CAVA course are:
Unit 1: Understanding the Principles and Practices of Assessment – giving you the essential knowledge and theoretical background needed if you are involved with assessing
Unit 2: Assess Occupational Competence in the Work Environment – where you plan, carry out and review assessments in the workplace
Unit 3: Assess Vocational Skills, Knowledge and Understanding – where you plan, carry out and review assessments in a learning environment such as a training course, classroom or refresher training.
Our team estimate it will take around 40-50 hours in total to complete your CAVA course.
Once you've gained your CAVA qualification, you'll be able to say that you are a fully qualified assessor in your subject area. With this qualification, you can work with learners on an NVQ course, an apprenticeship, an in-house training session at a company, those aiming for a regulated vocational qualification or any other situation where learners are being assessed.
We run the Level 3 CAVA course via our flexible online learning platform. You'll be allocated a named tutor from our team of full-time educators. For more details please checkout our course page or call us on 02078375677.
Next &nbsp&nbsp&nbsp&nbsp

›



‹

&nbsp&nbsp&nbsp&nbsp Previous

Back to Blog