October 11, 2022
What Can I Do With a Level 5 Teaching Qualification?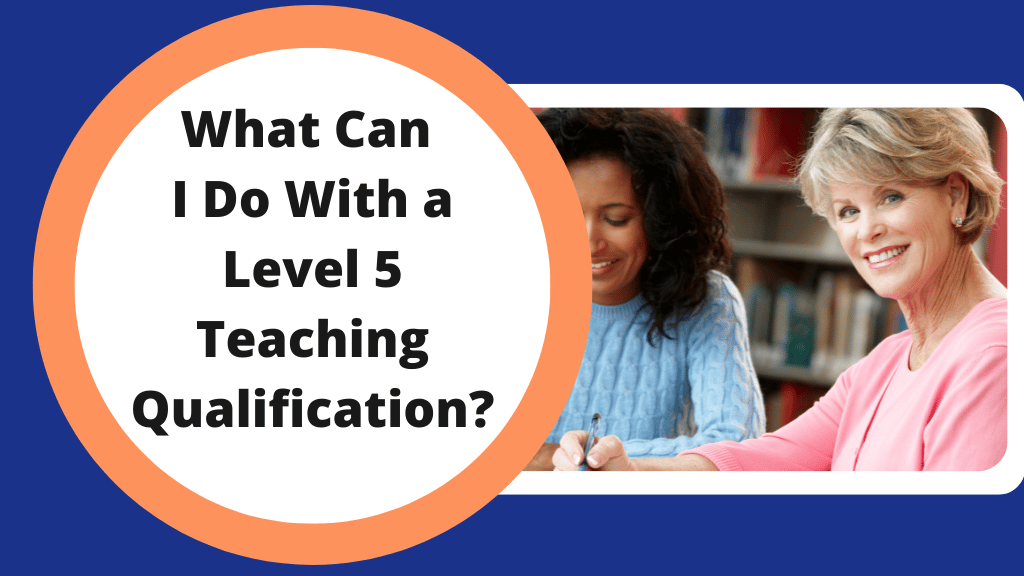 If you've made it this far and achieved a Level 5 teaching qualification, such as the Level 5 Diploma in Education and Training, then you should first give yourself a huge round of applause on such a major accomplishment in your professional development. With a minimum of 100 hours of teaching required to complete this qualification, you have put in the work by this stage and you're probably ready to put your new qualification to good use!
Let's take a closer look at the Level 5 DET and what you can do after you have earned your qualification.
What is the Level 5 Diploma in Education and Training?
The Level 5 Diploma in Education and Training (DET) is an advanced teaching qualification which is regulated by OFQUAL (Office of the Qualifications and Examinations Regulation).
When you hold this Level 5 Diploma in Education and Training qualification, you can officially say that you are a teacher. There is no need to gain further qualifications unless you want to gain a higher position in the education and skills sector.
The Level 5 Diploma in Education and Training is equal to the Certificate of Education (CertEd) and covers similar content to the Postgraduate Certificate in Education (PGCE). In short, the Level 5 DET is a full teaching qualification that covers a wide range of useful topics which will help you as a teacher and educator.
What Can I Do With a Level 5 Teaching Qualification?
You have many options available to you now you have received your Level 5 Diploma in Education and Training but before you jump straight into applying for your ideal teaching role, there are a few things you should consider or action which can set you above the rest.
Apply for Qualified Teacher Learning and Skills (QTLS)
The most popular next step once you have completed your Level 5 DET is to apply for your Qualified Teacher Learning and Skills (QTLS). This is done via the Society for Education and Training which is the professional body for this status.
Getting your QTLS is a quicker and cheaper alternative to the traditional QTS (Qualified Teacher Status) route. Since 2012 the Qualified Teacher Learning and Skills (QTLS) has held equal status with QTS, so with this status, you will be able to call yourself a fully qualified teacher.
The good news here is that gaining the QTLS is straightforward – you won't need to go through the elongated process of being a Newly Qualified Teacher (NQT) first. That means that once you've got your QTLS- that's it! You can tick the "Yes" box on any application form or survey asking if you are a qualified teacher.
If you are in any doubt as to the legal status and validity of this then ask them to either dust off their law books or visit legislation.gov.uk to look at The Education (School Teachers) (Qualifications and Appraisal) (Miscellaneous Amendments) (England) Regulations 2012. This is the law change which made it so that holding QTLS is recognised throughout England as a full professional status for teachers. Additionally, you are not limited to just post-14 or post-15 roles.
Update your CV
The first thing you should really get done once you've qualified is to update your CV, making sure to include the Level 5 Diploma in Education and Training prominently. This is likely your most relevant qualification in teaching so far, so make it known. You should also include your QTLS status after you have applied for it.
Start teaching
With your Level 5 Diploma in Education and Training qualification, the world really is your oyster. You are now a qualified teacher which means that teaching is your next logical step once you have completed your course and training.
Once you've earned your Level 5 qualification and your QTLS status, you can teach or train in any field within the lifelong learning sector that you are wishing to work in. This is including (but is not limited to):
Teach in schools, including primary and secondary
Teaching in Colleges
Teaching at Universities
Teaching or Training at companies
Tutoring as a subject specialist
Training people towards OFQUAL recognised qualifications
Work-related on-the-job training
Distance learning or online teaching
Take further training
As a qualified teacher, once you've gained your Level 5 DET, you've got a multitude of options available to you to further your career. You can continue your professional practice and development in education if you would prefer to advance your career further.
You have already covered how to deliver learning sessions, plan schemes of work and put in place teaching and learning strategies for your learners, so you won't usually need any more training in these areas. This makes you an ideal candidate for more advanced teacher training qualifications.
Taking further qualifications can advance your teaching role opportunities and help you stand out from the crowd in a sea of job applications, especially if you're looking to move up the ladder in the education and training skills sector.
If you planning on teaching adults to gain OFQUAL-recognised qualifications, then you should consider boosting your skills and CV with an Assessor course such as Level 3 CAVA Certificate in Assessing Vocational Achievement.
Alternatively, if you're going into a management or supervision role then think about the Level 4 Lead IQA Course, which will give you the skills and knowledge to carry out quality assurance as well as manage a team of quality assurers.
Next &nbsp&nbsp&nbsp&nbsp

›



‹

&nbsp&nbsp&nbsp&nbsp Previous

Back to Blog