July 26, 2022
What is an IQA qualification?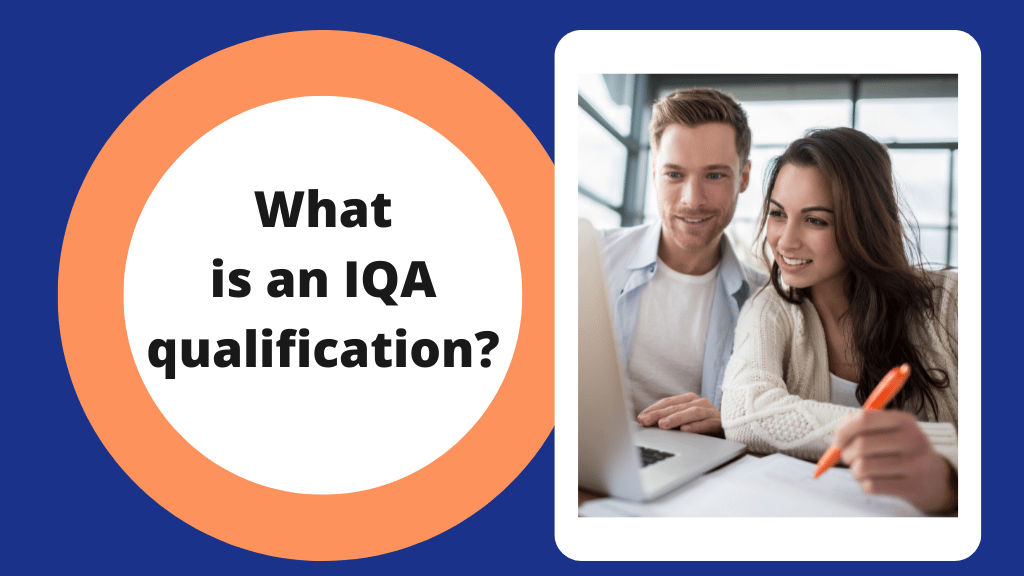 IQA stands for Internal Quality Insurance. In the world of education and training, IQA refers to the process used to monitor and evaluate the delivery and assessment of qualifications to ensure they meet the required standards. In the UK, specific qualifications are available for those wishing to undertake the role of an IQA.
What is an IQA qualification?
An IQA qualification provides you with the necessary knowledge, training and resources to monitor assessment processes and practices within an organisation. An IQA qualification enables you to carry out quality assurance of assessment, check assessment decisions, monitor training and assessment and ensure good practice is maintained throughout an organisation.
IQA qualifications are usually needed for a supervisor or managerial role where they are responsible for internal procedures or teaching/assessing staff members.
What is an Internal Quality Assurer (IQA)?
An Internal Quality Assurer (IQA) is an essential staff member whose job is to ensure that all organisational assessment and teaching processes are carried out correctly and can withstand scrutiny.
Being an IQA also involves supporting and advising the assessors, teachers and other team members to ensure their assessment processes are up to modern standards. An IQA could be carrying out tasks such as:
What are the responsibilities of an IQA?
The main responsibilities of an Internal Quality Assurer include:
Supporting trainers and assessors by providing constructive feedback on their performance.
Ensuring assessment methods are up to standard by collaborating with assessors, trainers and employers.
Make sure best practice is always followed when candidates are being assessed.
Discussing work and assessment results with students.
Internally assure the quality of assessors in an organisation.
Planning, executing and monitoring the quality of assessment in an organisation.
Identifying and developing policies and procedures within the organisation at every level.
However, there's a lot more to the role of an IQA than these main responsibilities. If anything, these are the bare minimum! In fact, there's so much to it that we've put together a comprehensive guide on what IQAs do to help you get to grips with the IQA role and responsibilities.
Do I need an IQA qualification to become an Internal Quality Assurer?
From farriers and hairdressers to mechanical engineers and football coaches, people are increasingly required to hold qualifications to prove they have the knowledge, skills and training for their job.
So yes, it is essential to have an Internal Quality Assurance (IQA) qualification if you are working as an Internal Quality Assurer or would like to in the future.
Where can I get an IQA qualification?
At Carlton Training, we provide three different types of IQA qualifications depending on your requirements in leading the internal quality of your organisation. These include:
This IQA course is a theory-only course with just one unit, so the assessment process doesn't take long from start to finish. You can take this course even if you're not yet an IQA. We find it's best suited for those interested in becoming an IQA or who want to learn more about the role of an IQA.
This course involves all the theory and background of the above course, plus an essential practical unit where you will carry out real-life IQA activities with assessors and other team members. This is THE qualification to go for if you're serious about becoming an IQA and the most widely recognised IQA qualification. In fact, it is compulsory to hold this (or at least be enrolled and working towards it) for many people working within Internal Quality Assurance.
With this course, you will cover all units from the Level 4 IQA Qualification in the Internal Quality Assurance of Assessment Processes and Practice and an additional unit. This unit is known as a leadership unit, where you will monitor and supervise other IQAs. This qualification is ideal if you are in charge of quality assurance, have other IQAs working under you and act (or want to act) as a lead IQA within your organisation.
At Carlton Training, our IQA courses are available to take online or in-house, making them incredibly accessible for anyone looking to train in Internal Quality Assurance.
If you're still unsure if you need an IQA qualification or the best one for your career goals, check out this post on the qualifications you need to be an IQA.
How long does it take to get an IQA qualification?
The full IQA course takes around 5-6 working days to complete. However, you can study for your IQA qualification online with us, which means you can study at your own time and pace, with up to 6 months to complete your course.
At Carlton Training, most of our students complete their qualifications within a few weeks. We follow the best assessment processes and practice, and despite the shorter completion time for our training, we're just as thorough!
Who awards IQA qualifications?
Behind all regulated qualifications is a network of people and systems designed to ensure they are only issued to those who deserve them.
There are Awarding Bodies with subject experts, qualification planners and people who check approved centres such as training organisations, colleges, company training departments and many public institutions offering education and training.
Assessors, trainers, tutors and teaching assistants work hard at these organisations to train, teach, assess and support candidates.
Our IQA qualifications are awarded through City & Guilds. For 140 years, City & Guilds have ensured that the right skills are in place for the workplace, and they provide high-quality and nationally recognised qualifications. Working with regulators such as OFQUAL and training providers such as Carlton Training, their qualifications are helping people and organisations across the UK to develop their skills for growth.
To start your exciting journey on the pathway to becoming a qualified Internal Quality Assurer, browse our full range of Quality Assurance courses. If you're still unsure of the best course for you, please don't hesitate to reach out to our friendly team, who are more than happy to answer your questions.
Next &nbsp&nbsp&nbsp&nbsp

›



‹

&nbsp&nbsp&nbsp&nbsp Previous

Back to Blog