August 2, 2022
What qualifications do you need to be an IQA?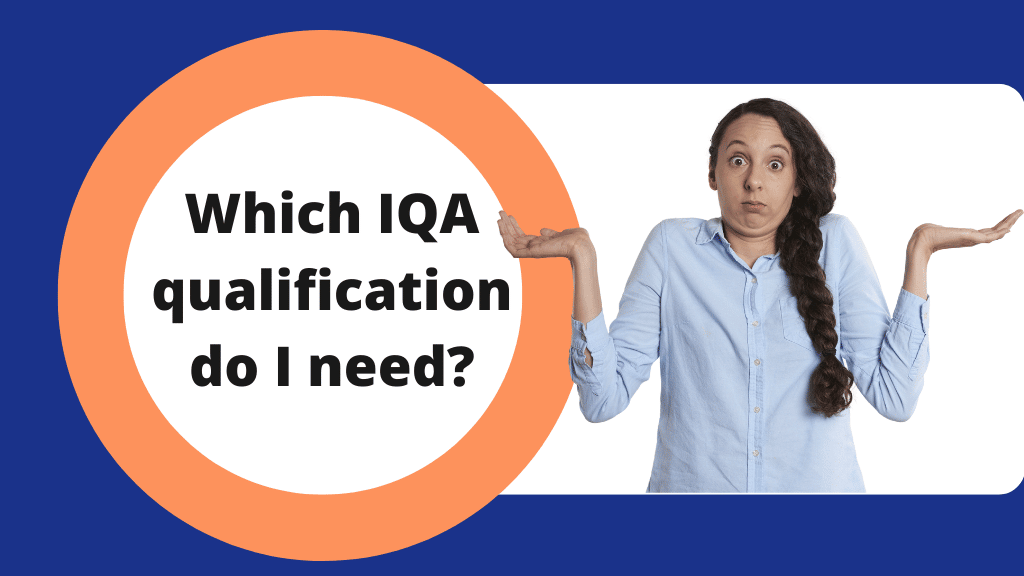 When asking "what qualifications do you need to be an IQA", you must first check what level of responsibility you will have as an IQA within your organisation.
This is because qualifications needed to become an IQA vary depending on whether you're looking to focus on the theory behind internal quality assurance, carry out day-day IQA tasks or become a lead IQA responsible for other IQAs within your organisation.
What is an IQA?
If you're starting out your journey with internal quality assurance then you may be wondering exactly what an IQA is?
In a nutshell, an Internal Quality Assurer is an essential element in making sure that the whole assessment and teaching process is carried out properly and can stand any scrutiny.
To help you best understand this, the team at Carlton Training have put together a comprehensive guide to being IQA which will answer all your burning IQA questions.
What is an IQA qualification?
An IQA qualification is what you receive after you complete a recognised course which best suits your needs for your role as an IQA. These qualifications prove that you have the skills/knowledge needed for you work. They are the sort of thing you can frame and hang on the wall and are a great addition to mention on your CV.
The knowledge and you learn in your IQA course gives you ability to internally assure the quality within an organisation.
If you're still unsure, check out this post on IQA qualifications!
What qualifications do you need to be an IQA?
To become an Internal Quality Assurer (IQA) you'll usually need to have a proper IQA qualification, or at least be enrolled on an IQA course and be actively working towards gaining one.
There are several different IQA qualifications available to choose from, and they've all got quite long titles which can be challenging!
The most important thing when considering an Internal Quality Assurance (IQA) qualification is to make sure your qualification is nationally recognised. Also known as a "regulated qualification".
At Carlton Training, all the IQA qualifications we offer are recognised as they are issued by the Awarding Body City & Guilds and regulated by OFQUAL.
The first thing to do is check with your employer to find out if they have any specific IQA course they want you to take for internal quality assurance in their organisation.
If they don't have a preference, then you should review the requirements set by your Awarding Body or, if you have one, industry/trade body or regulator.
They'll almost certainly want you to gain a regulated qualification and might even have checks already in place to ensure you meet all their requirements.
You'll then be able to make a choice and select the IQA qualification which would best suit your requirements.
This is the most widely recognised of the modern Internal Quality Assurance (IQA) qualifications because it covers all the elements you need to carry out internal quality assurance activities.
If you are going to become an IQA then this course should be at the top of your consideration list for your assessor qualification.
This course consists of two main units; a theory unit where you'll cover all the essential knowledge to become an IQA, and then a practical unit where you will plan and carry out IQA activities in a real-life setting.
This IQA qualification shows you have all the necessary knowledge and have the hands-on skills an IQA needs for internal quality assurance within an organisation.
This internal quality assurance course is a cut-down version of the Level 4 award above as it is all theory based.
It is ideal if you want to get started and gain an IQA qualification quickly, learning all the principles and practices, without having to go through all the practical assessments you would normally need.
This course is great if you're just starting and are not sure about whether you need to get involved with the practices of internally assuring within an organisation. It's also more economical and a shorter route to gaining one of those all-important regulated qualifications.
This is the internal quality assurance qualification to consider if you're going to be a senior or lead IQA.
So not only carrying out internal quality assurance but leading the internal quality by supervising and organising other IQAs in their work too.
This course is ideal if you're in, or thinking of going into, a leadership or management role within internal quality assurance. Even more so if you're looking at expanding what you do as a training centre and hiring new IQAs.
You'll cover the knowledge and practical units of the first qualification on this list, plus an extra leadership unit where you plan IQAs' work, manage activities for other IQAs and sample their work for quality assurance purposes.
If you're still not entirely sure which IQA course is the one for you then contact us to find out more or book a call from a member of our team.
Next &nbsp&nbsp&nbsp&nbsp

›



‹

&nbsp&nbsp&nbsp&nbsp Previous

Back to Blog