August 22, 2022
What can I teach with a Level 3 Award in Education and Training?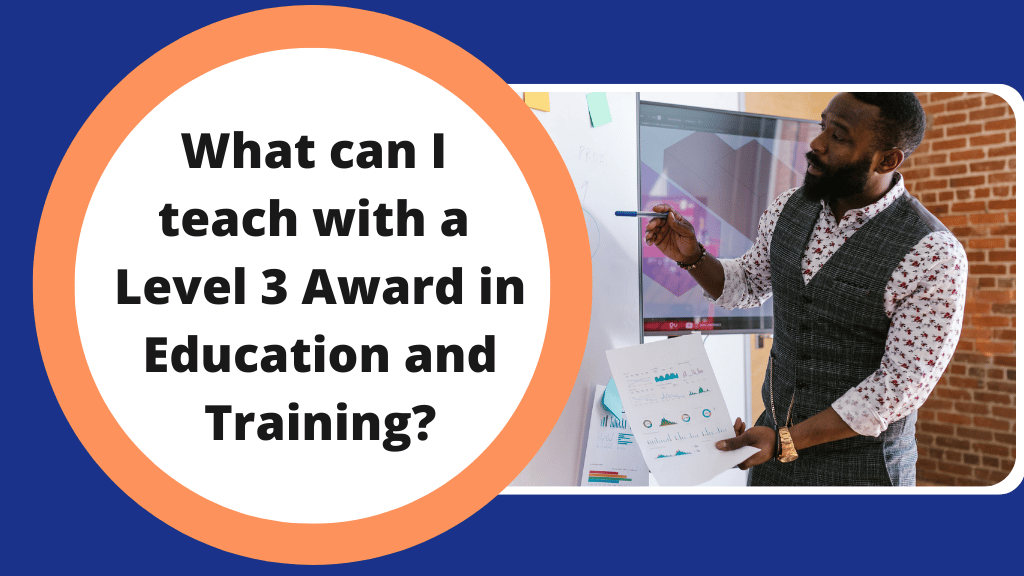 The Level 3 Award in Education and Training qualification is a real door-opener for your career as it qualifies you to start teaching and training a vast number of subjects. 
With this qualification, you could, for example, enter the education and skills sector for:
Construction Skills
First Aid
Health and Safety
Streetworks (roadworks)
Security
Hair and Beauty
… and this is just a small selection of the many options available to you.
As well as being an ideal qualification for you to enter the training and education field, the Level 3 AET Award also gives you the confidence you'll need to teach and train within your own sector.
Do I need a Level 3 Award in Education and Training to start teaching?
There are two main factors that make the Level 3 AET a wide-ranging entry point for teaching in many subject areas. One is industry regulations and the other is for organisations to prove their teachers and trainers are appropriately trained. Let's look at each of these in a bit more detail.
Industry Regulations
If you're hoping to train individuals to get their own regulated qualification (an official qualification issued by one of the Awarding Bodies), you will find that holding a Level 3 Award in Education and Training is often compulsory.
This is an improvement on the pre-Level 3 AET era, when there was an assortment of requirements from the various awarding bodies, making it incredibly confusing for individuals hoping to train within the lifelong learning sector.
These ranged from the vague stipulation that trainers had to have "appropriate trainer credentials" or esoteric industry-specific trainer qualifications, and sometimes requiring the PTLLS (Preparing to Teach in the Lifelong Learning Sector) qualification, which was the forerunner to the Level 3 AET. 
This current requirement for a Level 3 AET Award is an improvement as it not only brings a common level of agreement to disparate awarding bodies but encourages people to gain a single qualification. This is ideal if you have more than one subject you regularly teach. 
Organisation Standards
The second main factor encouraging people to take the Level 3 AET is that it's become increasingly important in recent years for organisations to show that the teaching and training they provide is up to standard.
This is partly due to the increasing role that compliance has in daily life and the expectation that there could always be some sort of enquiry or legal case if anything happened.
After all, any organisation which provides training could be held accountable if the people being trained were not taught properly or if an accident, failure or mistake occurred in their environment.
This is not because of ambulance chasing by lawyers or people looking to make a compensation claim but because it's now expected that organisations take "reasonable care" in what they do – and quite rightly so! This should be one of the main responsibilities of any teacher.
This is why an increasing number of roles involving training have job descriptions or job specifications which require the Level 3 AET qualification within their entry requirements. It doesn't just apply to full-time training jobs but also to positions where you might be carrying out occasional teaching and training such as inductions, welcome sessions for recruits or taking part in update training for your team.
This means that once you've gained your Level 3 Award in Education and Training, you could potentially end up involved in teaching and training any subject you are involved with.
What industries require a Level 3 Award in Education and Training qualification?
Many industries require a Level 3 Award in Education and Training qualification before you can teach or train. Some of the most popular industries that require a Level 3 AET qualification are:
Construction Skills: Instructors on many traditional trade courses such as carpentry, electrics, plumbing and groundworks are required to have this qualification.
First Aid: Regulated first aid courses which comply with the HSE (Health and Safety Executive) requirements, such as Level 3 First Aid at Work, require a qualified teacher.
Health and Safety: The health and safety sector is vast and includes all sorts of safety-related courses, including Fire Safety, Managing Safety and Confined Spaces, all requiring a teaching qualification for individuals to train.
Streetworks (Roadworks): Those guys digging up the road, yes, they have to be trained properly and their instructors need to be qualified, too! After all, their work involves major infrastructure, gas pipes, cables, powerlines and water supplies.
Security: The security sector is regulated by the SIA (Security Industry Authority), and they have stipulated that trainers on all licence-linked qualifications must be qualified to teach.
Hair and Beauty: You'll find a plethora of courses within the hair and beauty industry, and along with these comes the requirement for those teaching to be qualified.
This is definitely not a conclusive list. At Carlton Training, some of our past candidates have gone on to teach in all sorts of sectors and all sorts of topics, including:
IT network systems
Cookery
Healthcare
Mechanical Engineering
Drone Piloting
Logistics
Forklift Driving
Marine Navigation
Radio Communications
Dressmaking
Millinery
Accountancy
Water Rescue
Emergency Vehicle Driving
Childcare
Horticulture
…and a whole host of other things. 
So, what can you teach with a Level 3 Award in Education and Training?
As you can see, the answer to the question "What can I teach with a Level 3 Award in Education and Training?" is "practically anything"!
So, if you're thinking of taking your Level 3 AET course with us, not only will you gain a nationally recognised qualification which will enhance your career prospects within the lifelong learning sector, but you'll also be opening up the door to a world of exciting new opportunities.
Next &nbsp&nbsp&nbsp&nbsp

›



‹

&nbsp&nbsp&nbsp&nbsp Previous

Back to Blog