April 3, 2023
Which Quality Assurance qualification do I need?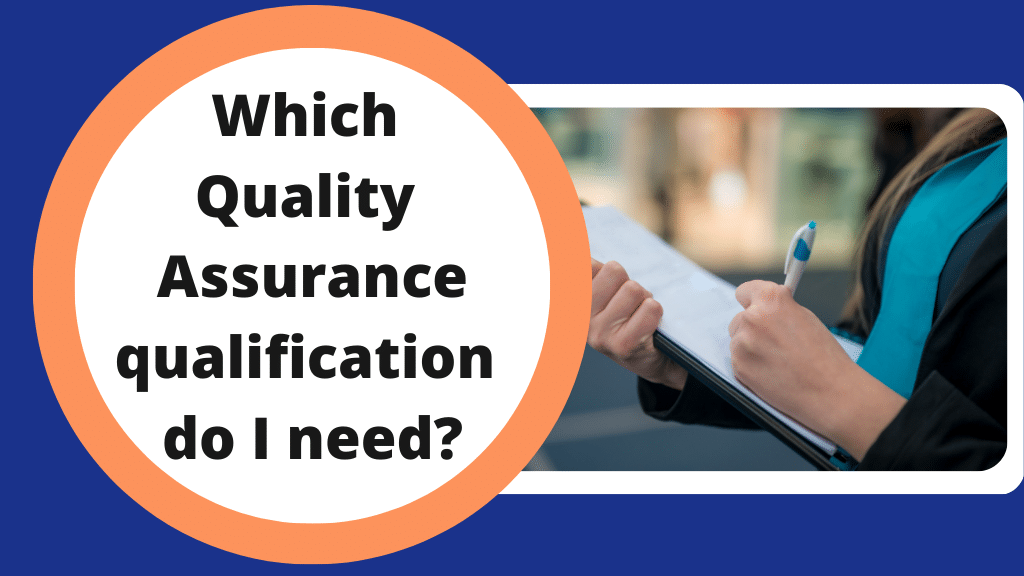 Within the education and learning sector, having the right quality assurance qualifications can make all the difference in establishing a successful career. Quality Assurers are responsible for ensuring organisations, such as schools, colleges and training centres, meet specific standards and regulations set out by their Awarding Bodies.
If you're considering which Quality Assurance qualifications are right for you, chances are you've come across lots of qualifications by now!
Before you get into the specifics of which qualification is right for you, you need to consider the two main fields in which Quality Assurance work is carried out.
Internal Quality Assurance (IQA)
Internal Quality Assurance, or IQA, is for colleges, training companies, schools, trade training places and training departments within companies. In fact, Internal Quality Assurance is carried out at any place which offers official, or "regulated", qualifications via an Awarding Organisation.
You've probably come across Awarding Organisations before. They're also called Awarding Bodies or even Exam Boards. You might even recognise the names of some of the major ones, such as City and Guilds, Edexcel, NCFE, Open College Network, IMI, etc.
There are the outfits that issue students certificates and qualifications. They're also the organisations that set the standards which candidates need to achieve to qualify.
If you review any nationally recognised certificate, you'll see that it has been issued by an Awarding Organisation, and its name will feature prominently on it, no matter which college or institution the candidate studied at.
Internal Quality Assurance can be a great career choice. As an IQA, you become a key person within your college or training centre. You are further up the chain of command from frontline teachers, tutors, assessors and admin, but you are still a vital part of what happens and how candidates achieve their qualifications.
This is because Internal Quality Assurers are there to ensure the centre complies with all the requirements laid down by the Awarding Organisation. This is particularly important in relation to assessments which take place at the centre, where candidates are assessed to see if they have achieved what is needed to qualify.
This is perhaps the most crucial part of the whole process as far as the learner is concerned. After all, they're aiming to get a qualification and the assessments they take will decide whether or not they succeed.
As an IQA, you also check assessors are carrying out their assessments properly to ensure that candidates are assessed fairly and thoroughly.
You'll also help and advise assessors by guiding them with completing assessments, as well as keeping them up to date with their subject and any changing requirements from the Awarding Organisation.
An IQA is often the link between their centre and the Awarding Organisation, as they are the contact responsible for standards being met. This can involve preparing reports, submitting data, liaising with the Awarding Organisation regarding their checks and visits to the centre. It also includes making sure that HR is recruiting and retaining enough qualified staff to comply with requirements.
If Internal Quality Assurance sounds like the route you'd like to go down in your career in quality assurance, then it's time to choose the best IQA course for your needs!
The most popular Internal Quality Assurance qualification is the Level 4 IQA Award in the Internal Quality Assurance of Assessment Processes and Practice. This qualification gives you both the theoretical knowledge you need for any IQA role plus the practical skills in carrying out IQA activities.
If you're already in an IQA role and you're looking to progress to a Lead IQA, then the quality assurance course to take is the Level 4 IQA Certificate in Leading the Internal Quality Assurance of Assessment Processes and Practice. This covers everything the more popular course does, but it also includes managing, supervising and directing other IQAs. Making it ideal if you're looking at a management IQA role.
External Quality Assurance (EQA)
External Quality Assurance, or EQA, is the role Awarding Organisations (AOs) play within the quality assurance process to ensure that centres offering their qualifications are keeping to the standards required. This includes assessing candidates correctly and having appropriate IQA systems of their own in place.
Essentially, being an External Quality Assurer is being the eyes and ears of the Awarding Organisation. EQAs are often reviewing and assessing what's happening at training centres to make sure that things are being done correctly. This includes visiting different centres, observing assessors and IQAs, speaking with candidates and reviewing assessment records, systems and processes.
If you like interacting with all sorts of different people and travelling to different places, then this could be an ideal job for you.
EQAs represent their Awarding Organisation at the centres they visit, so they are often in a position to advise, support and help the centre's IQAs, assessors and other staff involved with the qualifications. This helps those dealing with the frontline of teaching, assessing and ensuring that candidates are treated correctly. It also ensures the Awarding Organisation's reputation is upheld for their own good name, as well as the quality and validity of the qualifications.
Alongside maintaining a good reputation with the centres and learners, an External Quality Assurer is often pivotal in making sure qualifications are offered in accordance with those of regulators such as OFQUAL. This may mean ensuring there isn't any cheating or foul play involved at centres, such as candidates copying each others' work or taking assessments for each other.
If you think External Quality Assurance is a good fit for your career in quality assurance, it's time to choose the best EQA course for your needs!
The most popular and widely recognised EQA qualification is the Level 4 Award in External Quality Assurance of Assessment Processes and Practice. This course covers the background theory you need to understand an EQA's role, as well as the practical parts of actually carrying out EQA visiting, checks and monitoring.
If you want to dip your toe in the field and don't fancy doing the full EQA qualification, you could opt for the shorter Level 4 Award in Understanding the External Quality Assurance of Assessment Processes and Practice, which covers just the background knowledge needed.
To discuss our Quality Assurance qualifications in more detail, or for help deciding which one is right for you, reach out to our friendly team by phone on 020 7837 5677 or email at [email protected].
Next &nbsp&nbsp&nbsp&nbsp

›



‹

&nbsp&nbsp&nbsp&nbsp Previous

Back to Blog