April 17, 2023
Adult Education Training Acronyms: Your Ultimate Guide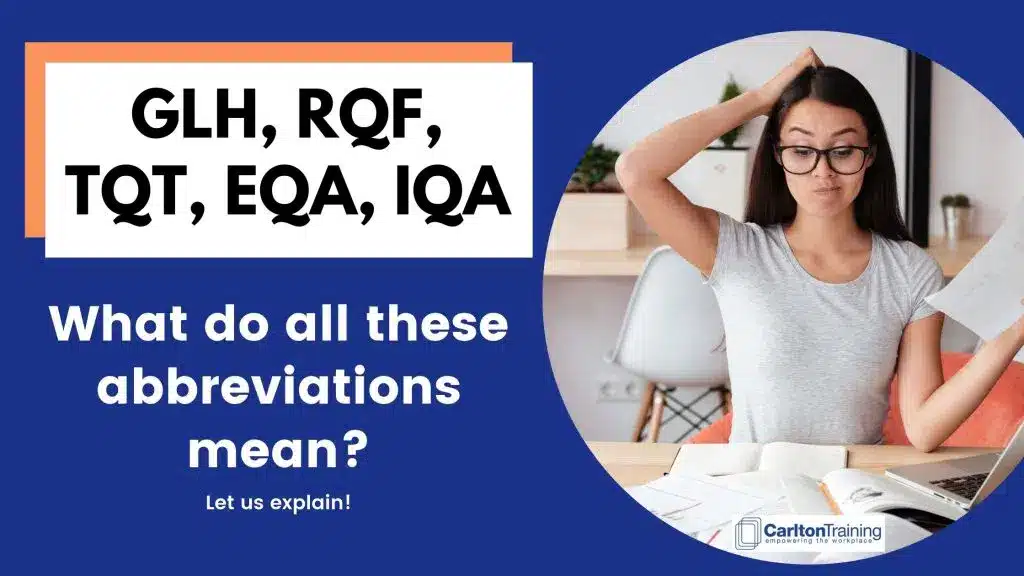 If you're diving into the world of adult education and training, then chances are you've already come across some of these confusing adult education training acronyms. In fact, the whole education sector is rife with acronyms, initials and odd little three-letter addendums.
You're certainly not alone if you think these are confusing, inconsistent and generally a pain to deal with, especially when looking into what training course is best for your next steps.
If you haven't seen any of these acronyms yet, then we're talking here about letters such as GLH, RQF, TQT, EQA and IQA. The list doesn't end there, but you get the idea!
You'll notice we include these acronyms on our own education and training course pages, because the abbreviations have become so widely spread that many courses are known for them rather than their full names!
For example, the CAVA course is officially named the Level 3 Certificate in Assessing Vocational Achievement, but in the education and training sector, it's referred to as "CAVA".
Of course, every trade, workplace and industry has its own set of "jargon". Whether you're in civil engineering, hairdressing, social work, horticulture, accounting or medicine, you likely deal with acronyms every day.
And if you're reading this thinking "not where I work", try speaking to somebody outside of your industry, about your work, exactly as you would to a colleague. It probably won't be more than 10 minutes before you stumble upon an abbreviation that needs explaining!
However, in the education and training sector, it's far more widespread, and it's in a constant state of flux. With this in mind, we've put together a quick guide for you:
RQF – Regulated Qualification Framework
This framework is designated by the regulatory body Ofqual and designed to be a 'simple and descriptive framework'. Basically, it's confirmation that Ofqual regulates a qualification and, therefore, it is a nationally recognised qualification.
For example, the Level 3 Award in Assessing Vocationally Related Achievement (RQF) is a nationally recognised and regulated qualification. So you can be sure it's valid, and the qualification proves that you have reached standards set according to Ofqual.
QCF – Qualification Credit Framework
The QCF was a predecessor to RQF and has since been replaced, so you won't find any current qualifications with QCF in the title. However, it is sometimes still mentioned by awarding organisations and cited regularly in the field of education and training.
TQT – Total Qualification Time
Each qualification is assigned a TQT, which is the minimum number of total hours a learner will take to complete the qualification. This is not just the time taking part in lessons, but also studying, reading and practising.
There's little scientific rigour behind a TQT number, which doesn't necessarily fit well as everyone studies at their own pace. So this is an estimate at best!
GLH – Guided Learning Hours
Guided Learning Hours have been scrapped nowadays, but they were used to measure the learning times needed for QCF qualifications. These weren't always applied consistently or accurately, something that Ofqual recognised but did not resolve. So they scrapped it and replaced it with TQT.
EQA – External Quality Assurer
External Quality Assurers are employed by Awarding Organisations (such as City & Guilds) to carry out quality assurance on approved centres (such as Carlton Training). Their role is to make sure that the standards of assessment are maintained, and that the centre is operating in accordance with the Awarding Organisation's requirements.
EQAs usually hold qualifications like the Level 4 Award in External Quality Assurance of Assessment Processes and Practice (RQF)
IQA – Internal Quality Assurer
Internal Quality Assurers work at approved centres providing qualifications. The IQA's role is to make sure that the centre is meeting the Awarding Organisation requirements and that assessors are keeping up to date, making fair decisions and documenting their work correctly. We've written a lot more on this topic, so check out our comprehensive guide to IQAs.
IQAs often hold the Level 4 Award in the Internal Quality Assurance of Assessment Processes and Practice (RQF) qualification.
QTS – Qualified Teacher Status
Gaining QTS is the traditional route to becoming a teacher, and it's the one which the Department of Education makes the most noise about. You'll usually need a degree or Postgraduate Certificate in Education (PGCE), plus additional time as a Newly Qualified Teacher (NQT) before you gain your Qualified Teacher Status.
QTLS – Qualified Teacher Learning and Skills
QTLS is another route to becoming a qualified teacher, although the Department of Education keeps this a little more under wraps. You don't need an expensive degree or University course for QTLS, and taking the Level 5 Diploma in Education and Training is usually the route most people take.
Adult Education Training Acronyms Guide
Still confused about all the acronyms in the education and training sector? Save this guide below so you can refer back to it when you need to!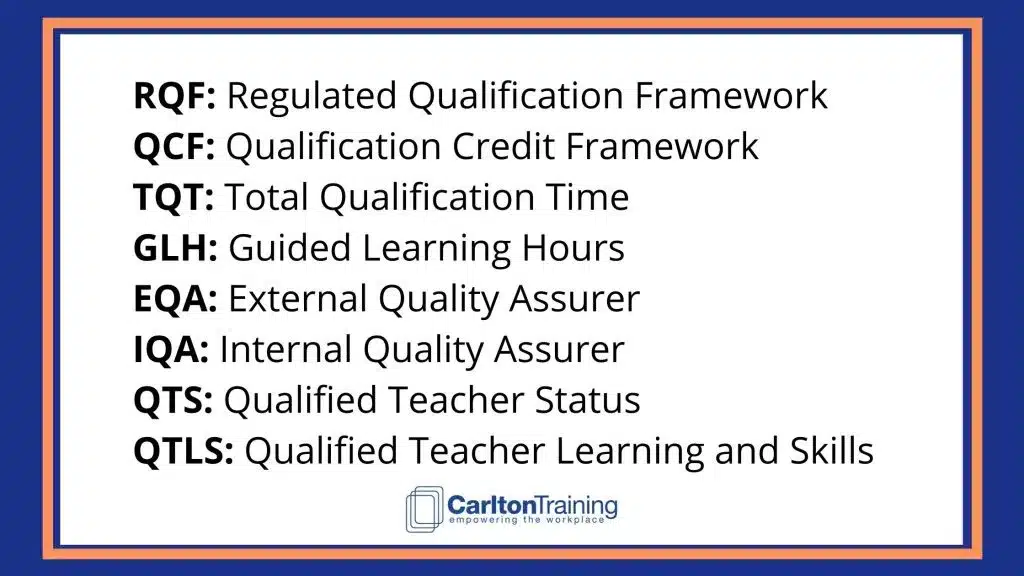 Next &nbsp&nbsp&nbsp&nbsp

›



‹

&nbsp&nbsp&nbsp&nbsp Previous

Back to Blog