June 26, 2023
Different Ways to Become a Teacher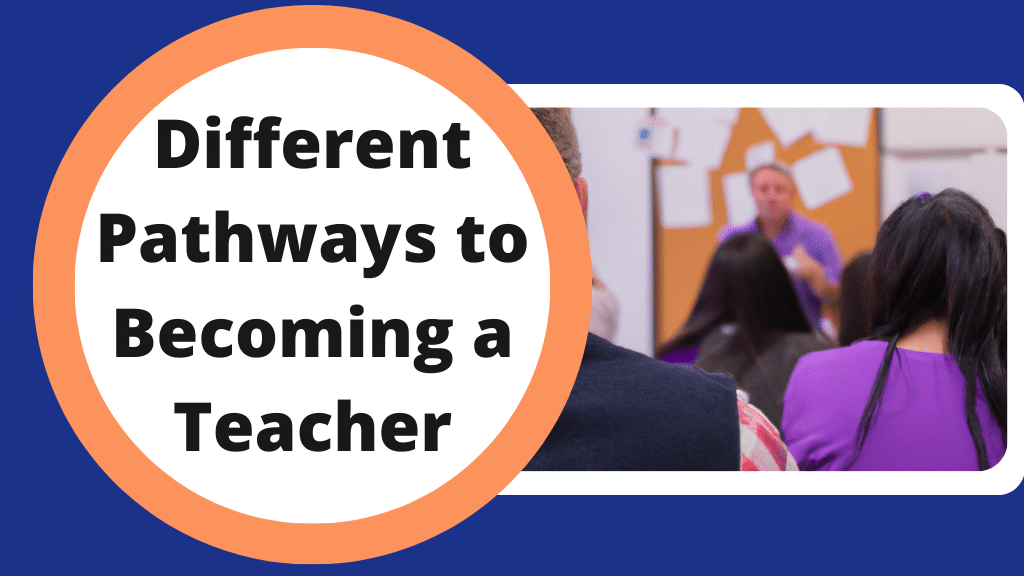 Teaching is a rewarding career with lots of job satisfaction and opportunities to interact with people from all walks of life. With many people considering a career in teaching, it's a common misconception that you need a degree or one specific qualification to become a teacher.
Depending on your prior experience, who you want to teach and what funding options you have available, there are several different ways to become a teacher in England and Wales. Let's explore each of them and find the best way for you to start an exciting career in the learning sector!
Teach First
Teach First is an education charity offering one of the most well-known pathways to get into teaching in England and Wales. As a free route into teaching, their scheme launched with a lot of publicity and advertising. After all, you can't get a better price than free!
Teach First works slightly differently from the standard pathways to becoming a teacher, as candidates' training is focused on communities where teaching help is needed most. The charity focuses on improving the educational outcomes for children from low-income backgrounds whilst reducing the gap between disadvantaged students and their peers.
Training to become a teacher with Teach First takes 2-3 years, making it one of the longer routes to becoming a qualified teacher. In order to secure a place, you usually need to have achieved a 2:1 degree at university, although 2:2 grades will also be considered.
During a Teach First course, you work as a full-time teacher in a school and are paid a salary whilst managing your own studying outside of school hours.
Upon completion, you gain a Postgraduate Diploma in Education (PGDE), and can begin working towards Qualified Teacher Status (QTS).
PGCE and QTS
The Postgraduate Certificate of Education (PGCE) qualification is the most traditional route to teaching in England and Wales. It's open to people with a wide range of qualifications, though a university degree is usually necessary. It's run in a similar way to a university or college course, with placements in local schools scattered throughout the year.
If you want to become a teacher quickly and start earning as soon as possible, this pathway could take longer than you really want to.
Although the PGCE is a popular route for teacher training, when considering all the different ways to become a teacher, this is the longest and most expensive route.
You'll need to complete a degree in your subject of choice first, adding three years to your initial teacher training and another year to take the PGCE.
Once you have a PGCE qualification, you can complete 'on-the-job' training as a Newly Qualified Teacher before you achieve qualified teacher status (QTS).
DET and QTLS
If you're looking for a budget-friendly teacher training course that won't set you back 2-3 years, this could be the best choice for you!
The Level 5 Diploma in Education and Training (DET) is a combination of practical and theoretical work, and there are no formal qualification requirements needed to get started. It focuses on providing you with the skills needed to plan and carry out exceptional teaching, and a range of modern techniques are included.
With a DET qualification, you can teach children of all ages if you obtain Qualified Teacher Learning and Skills (QTLS) status. This is a standard that teachers in further education are expected to meet, and those with a Level 5 DET qualification can apply.
With a DET and QTLS, you will be formally recognised as having everything you need to become a teacher.
The DET and QTLS pathway is perfect for those looking to advance their careers, as it shows employers that you have the skills needed to teach effectively. A range of skills are covered in the DET course, highlighting your commitment to becoming a teacher.
Why Choose a Diploma in Education and Training?
At Carlton Training, we provide an unbeatable Level 5 DET course aimed at giving people a unique and efficient way of becoming a teacher. With a DET qualification, you can go on to complete a QTLS course, which provides you with everything you need to take your teaching career to the next level. It's the ideal way to enhance your skills, boost your confidence and start your teacher training journey.
To find out more about getting a Level 5 DET qualification, get in touch with the Carlton Training team. Alternatively, browse our range of teaching courses online.
Next &nbsp&nbsp&nbsp&nbsp

›



‹

&nbsp&nbsp&nbsp&nbsp Previous

Back to Blog