July 28, 2023
DTLLS Qualification Guide: Everything You Need to Know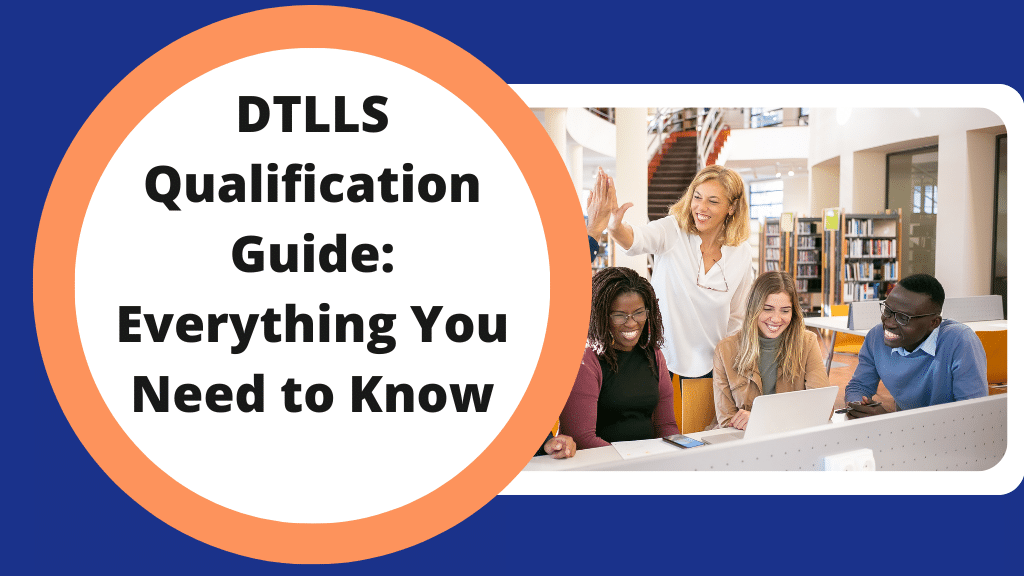 If you've been considering advancing your teaching career, you might have come across the DTLLS qualification. Abbreviated to DTLLS because of its long name, the Level 5 Diploma in Teaching in the Lifelong Learning Sector was the highest teaching qualification available in the UK for teaching in the further education sector.
The landscape of teacher qualifications in the UK has evolved in recent years and the DTLLS has since been replaced by the Level 5 DET. In this guide, we'll cover everything you need to know about the DTLLS qualification, what this shift to the Level 5 DET means and how the new qualification can serve as a pathway to becoming a qualified teacher.
What is a DTLLS qualification?
DTLLS stands for Diploma in Teaching in the Lifelong Learning Sector, a comprehensive teaching qualification designed to help people become fully qualified teachers for adult learners. The DTLLS was the highest qualification in the initial teacher training qualifications available for the adult learning sector, with the others being the CTLLS qualification and PTLLS qualification. It was also equivalent to a PGCE qualification but allowed for a much quicker route into teaching.
What can I teach with a DTLLS qualification?
Having a DTLLS qualification allows you to apply for QTLS status (Qualified Teacher Learning and Skills), which means you are allowed to teach in educational settings. The combination of a DTLLS qualification and QTLS status allows you to teach in post-16 education in a variety of settings, including adult and community education, work-based learning and independent training providers.
How was the DTLLS created?
The DTLLS qualification was created as an alternative to the PGCE to provide training for individuals who wish to become teachers in the adult learning sector. One of the driving factors behind the creation of the DTLLS qualification was the recognition that post-16 teaching requires specific knowledge and skills, different from those required in schools.
The qualification's framework was designed to cover a range of teaching and learning topics, including planning and delivering lessons, promoting equality and diversity, assessing learners' progress and understanding the education system. It also included practical teaching experience and observation components to allow candidates to acquire hands-on experience and develop their skills in real-life teaching situations.
What replaced the DTLLS qualification?
In 2013, the DTLLS qualification was replaced by the Level 5 Diploma in Education and Training to adapt to the modern needs and changes in the education world. It was developed with City & Guilds to provide an up-to-date qualification for teaching in the post-16 education sector.
Level 5 Diploma in Education and Training
The Level 5 DET course content is broadly equivalent to a PGCE qualification, with key modules including understanding roles, responsibilities and relationships in education and training, planning to meet the needs of learners, delivering education and training, and assessing learners. You also get the chance to put theory into practice, as one of the requirements is to carry out real-life teaching.
The Level 5 DET course is ideal for those looking to become a fully qualified teacher, trainer or for those seeking to update their teaching qualification. There are no formal entry requirements for the course but you should have experience or qualifications in the subject you want to teach.
Achieving the Level 5 DET qualification can provide a significant step forward in your teaching career. Not only does it enable you to show that you have completed a nationally recognised qualification, but it also offers a potential pathway into teaching in schools by obtaining Qualified Teacher Learning and Skills status (QTLS).
So even though the DTLLS qualification has been retired, you will find the Level 5 DET more than suitable for your progression in the fulfilling world of adult education.
At Carlton Training, we are committed to supporting you throughout your journey to becoming a fully qualified teacher. Our team of experienced tutors are always on hand to provide guidance and support as you work towards your Level 5 DET qualification.
To find out more about getting a Level 5 DET qualification, get in touch with the Carlton Training team. Alternatively, look at our range of teaching courses.
Next &nbsp&nbsp&nbsp&nbsp

›



‹

&nbsp&nbsp&nbsp&nbsp Previous

Back to Blog