June 19, 2023
How to get into Teaching without a PGCE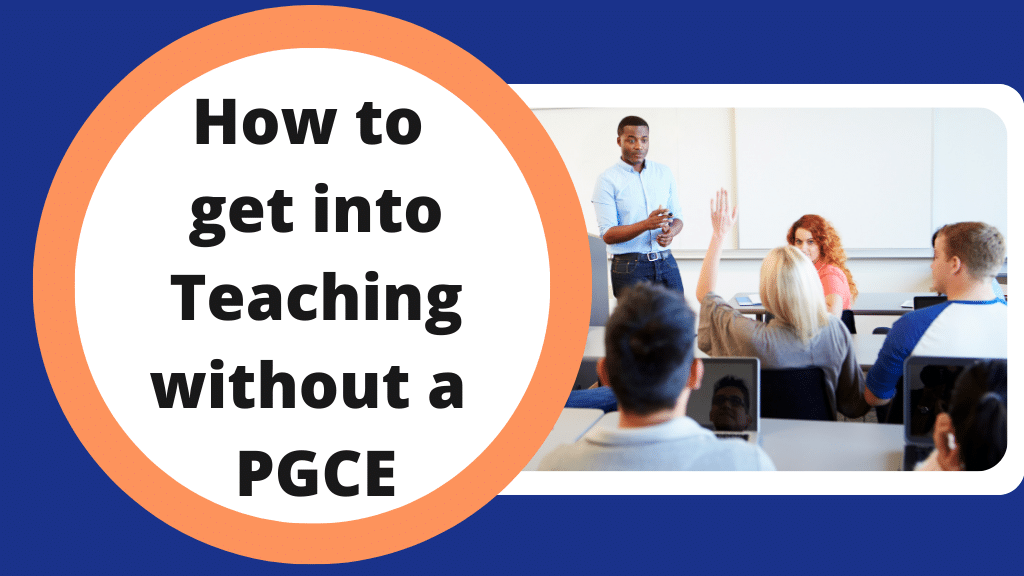 If you've ever looked at becoming a teacher, then you've probably found that the PGCE (Postgraduate Certificate in Education) is one of the most common qualifications needed on the pathway to becoming a teacher in England. To obtain a PGCE qualification, you must first have a degree graded at 2:2 or higher in a relevant subject, which adds significant time and financial commitments to your teacher training.
For individuals who don't have a degree already, this can ba a huge barrier to entry to becoming a teacher. Fortunately, you'll be happy to know there are some alternatives you can explore to get into teaching without a PGCE and begin your career in the lifelong learning sector!
Do I need a PGCE to teach?
No, you do'nt need a PGCE to teach in England. It is a common misconception that all teachers require a PGCE qualification in order to work in a classroom, but that isn't actually the case at all.
The reason that many people believe that a PGCE is essential to become a teacher is because this is the most common route. However, to become a teacher, all you need is Qualified Teacher Status (or QTS) or QTLS (Qualified Teacher Learning and Skills). For most students who complete the PGCE course, they go on to apply for their Qualified Teacher Status, just like people have been doing for decades!
And the good news is that there are other ways to obtain QTS or QTLS that don't involve going to university or taking the PGCE qualification.
The difference between QTS and QTLS
At one time, it was essential for all teachers to have QTS and complete an ITT (Initial Teacher Training) programme. In recent years, however, the alternative QTLS route was introduced. Initially, this pathway into teaching was developed for post-16 education teachers (i.e. teachers of adults and 16+ sixth-form students). 
However, in 2012, the law changed to allow holders of QTLS to teach secondary and primary-aged pupils in England too.
Unlike QTS, no degree or PGCE qualification is necessary to obtain QTLS, which makes it the ideal solution for those who might not have attended university to enter the teaching profession. 
How do I obtain QTLS?
You can obtain QTLS by taking the Level 5 Diploma in Education and Training (also known as the DET). The Level 5 DET holds the same value as the PGCE, making it the perfect alternative route to becoming a teacher without attending university. Once you've obtained the DET qualification, you can move on to obtaining QTLS by completing the Professional Formation process.
Once you have received your QTLS, you will be able to apply for qualified teaching positions in England.
What is the Level 5 Diploma in Education and Training?
The Level 5 DET course is ideal if you hope to start your career as a teacher or update your existing knowledge and skills in your current teaching role. The course can be completed online or in person in as little as 70 working days. But don't worry, when you take this course with us, you can take up to 18 months to complete the course, allowing you to work at your own pace.
On the DET course, you'll get practical advice about how to plan, construct, and carry out teaching in a classroom, with guidance and support from expert trainers.
You don't need a degree to be accepted onto a DET course. However, you need to have suitable IT and literacy skills, plus experience or qualifications in your chosen subject area. You'll also need a mentor who can be a volunteer or colleague with a relevant teaching qualification to carry out some lesson observations. You'll also need to complete a minimum of 100 teaching hours, although you can do this after completing the course.
Ready to get into teaching without a PGCE?
If you are looking for the quickest and most efficient route to teaching without needing a PGCE or degree, the Level 5 Diploma in Education and Training is the best solution. This recognised teaching qualification is affordable and convenient, especially if you opt for the online course, which you can complete at a time and pace to suit your needs. 
Offering all the guidance and support you'll need to complete your qualification, our Level 5 DET course is a great way to enter the teaching profession and advance your career in the field of education without committing a lot of time and money to go to university. Get in touch today and kickstart a rewarding teaching adventure with Carlton Training.
Next &nbsp&nbsp&nbsp&nbsp

›



‹

&nbsp&nbsp&nbsp&nbsp Previous

Back to Blog