August 10, 2022
Which course should I take after my Level 3 Award in Education and Training (AET)?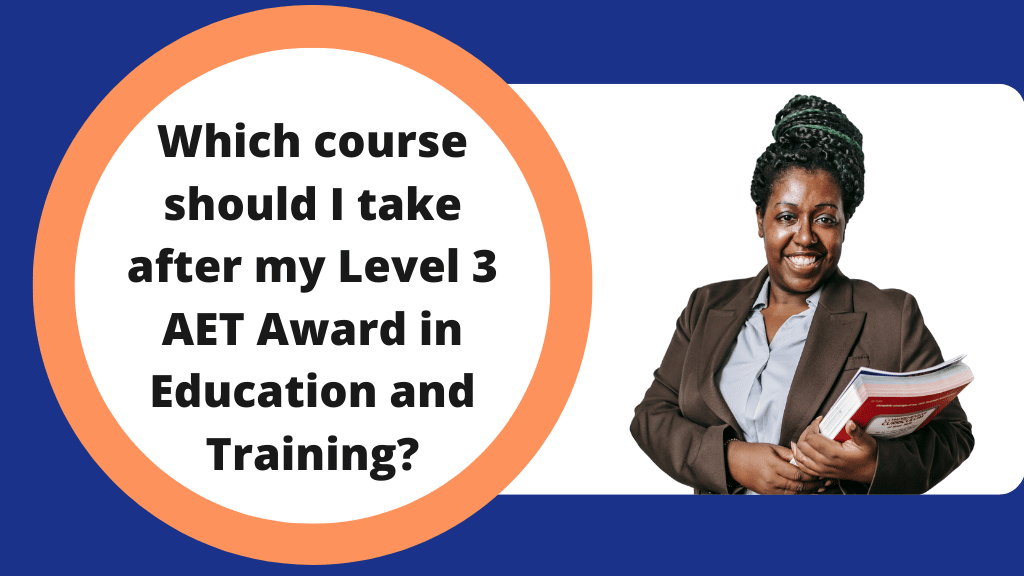 After you have gained your Level 3 Award in Education and Training (AET) there are lots of options open to you in terms of extra courses within the education and skills sector which you can take. It's a fantastic introductory qualification into education and training, so looking to advance your existing talents will help you further your prospects in the lifelong learning sector.
There are a variety of courses you could take after completing your Level 3 Award in Education and Training. Some examples include:
But before you dash into booking another education and training course, make sure that you take these three vital steps:
Include your Level 3 Award in Education and Training qualification on your CV
Yes, go ahead and blow your own trumpet! A Level 3 Award in Education and Training is a very worthwhile qualification to have, and as it is nationally recognised by City & Guilds, you should have this prominently on your list of achievements.
Tip: If you're going to put this level 3 qualification on your CV then make sure you keep a physical or digital file of the certificate itself. That way if anyone requests to see it, you'll be able to show them without any delay.
Make sure that your workplace knows about your new education and training qualification
You might take the not-so-subtle approach and frame your certificate on the wall.
Or perhaps gently weave it into conversations like "…and now that I've got my Level 3 Award in Education and Training, I'm much more confident about running the teaching and training sessions."
There's no need to be bashful about gaining a qualification within the education and training space. Do you remember passing your driving test? You probably told everybody!
And quite rightly, it's an important milestone. Your Level 3 Award in Education and Training is no less an achievement, so go get a few high fives and positive feedback.
Take the time to update your job description and person specification (if you have one) to reflect your new skills and experience in education and training. This will show that you are taking your role as an educator seriously, which could result in being promoted or even being given the opportunity to teach other courses.
Inform your awarding organisation or governing body that you now hold a Level 3 Award in Education and Training
Whether you're looking at a career as a teacher within the school system, or carry on training adults, it's important to inform your awarding organisation or governing body that you've completed this level of training. Although the AET is not a full teaching qualification, it does show that you have the commitment and potential to train as a teacher, which is often seen as a desirable asset.
If you're not planning on becoming a school teacher then check what the governing body for your desired profession are saying about the AET Level 3. It's possible that holding this qualification may help you to progress in your current field or open doors to new ones.
Next steps: What to do after completing your Level 3 Award in Education and Training
Next, you need to consider which course or career path would suit you best within the education and skills sector, especially now that you're qualified.
There are several different routes and the most popular ones with our candidates are:
Gaining assessment qualifications
Especially if you're involved with regulated qualifications, that is you're teaching people on nationally recognised courses which lead to a formal certificate.
As you probably know, your Level 3 Award in Education and Training is often a requirement to start training within the education and skills sector, but there's also an increasing demand for anybody involved with these delivering these qualifications to be qualified as an assessor as well.
This is because, although you covered understanding the principles and practices of assessment on your Level 3 AET course, Awarding Bodies are offering many more centre-assessed* qualifications than in the past when traditional exams dominated.
You should give serious consideration to taking the Level 3 CAVA Certificate in Assessing Vocational Achievement or one of its sibling qualifications such as the Level 3 Award in Assessing Competence in the Work Environment or the Level 3 Award in Assessing Vocationally Related Achievement.
These give you recognised qualifications in assessment methods which will complement your existing Level 3 AET. The good news about these qualifications is that the format is similar to what you're familiar with – some theory and then planning and carrying out practical tasks.
These qualifications also have the same level of time commitment as your Level 3 Award in Education and Training, so you should be able to complete and be qualified fairly promptly.
Plus being Level 3 qualifications, you'll be answering straightforward questions and doing short practical assessments so no need for long study, lots of reading or referencing your work like in more advanced Level 4 or Level 5 qualifications.
*centre-assessed = assessment is carried out at a training centre or college, often via practical tasks, assignments, essays, coursework, practical tests etc. instead of exams.
Pursue quality assurance or management qualifications.
To move up the career ladder within education and training, you could look into Quality Assurance or management roles.
Rather than teaching or assessing on the frontline, you can become an Internal Quality Assurer or IQA. If you're unsure on what an IQA is or what they do, check out our comprehensive guide.
These are the folks who check that practices of assessment and teaching are being carried out correctly, that systems for enrolling candidates are in line with principles and practices within the sector and ensuring that no cheating or bad practice is going on.
They also liaise with the Awarding Body, compile reports and plans to improve the quality of assessment and teaching as well as carry out sampling and standardisation with tutors and assessors.
If this sounds like something you'd like to do then an ideal start is to gain your Level 4 Certificate in Leading the Internal Quality Assurance of Assessment Processes and Practice, commonly called the "IQA Award".
Like the Level 3 Award in Education and Training, it's a combination of theory and practical work, with two main units covering these areas. You'll plan and carry out some real sampling activities and compile reports and updates for assessors and tutors.
In terms of time taken to gain this qualification, it's also similar in length to the Level 3 AET so relatively quick to get.
Being at Level 4 the IQA qualification puts you in the next level up in terms of standards achieved, being responsible for roles, responsibilities and relationships in leading your team of assessors and tutors. You will be a key asset to any organisation within the education and training sector.
Gain a more advanced teaching qualification.
Doing your Level 3 Award in Education and Training may have whetted your appetite for teaching and training, after all, there's really nothing to beat it in terms of job satisfaction.
Giving your skills and knowledge to other people and seeing them develop and succeed makes teaching and training unique compared to any other role.
Since your Level 3 AET provides you with the introduction to teaching training to continue within the sector the next logical step is to take a more advanced teaching course.
The good thing is that since you're now able to go out and teach or train people, you're ideally placed to gain what is often called "in-service" qualifications, that is qualifications which you can only gain if you're already in a system and training or training. This makes it much easier to meet entry requirements for higher-level qualifications.
Among your options to consider is the Level 5 DET Diploma in Education and Training which, although a really big step up from the L3 AET, earns you a qualification equivalent to a Post-Graduate Certificate in Teaching or PGCE.
So think of this as a comprehensive teaching qualification which will give you the status and confidence of a qualified teacher without having to go to university or college.
Once you've got your Level 5 DET you'll also be able to gain QTLS (Qualified Teacher Learning and Skills) which enables you to teach as a fully qualified teacher at any school in England and Wales. This sets you up for a lifetime career in the lifelong learning sector of education and training!
There are plenty of options available when it comes to taking your education and training career to the next level and it really depends on what you want to do and where you see yourself in the future.
The important thing is that with a Level 3 Award in Education and Training you'll have plenty of options and can tailor your route to suit your own goals and ambitions. Whichever route you decide to take, we wish you all the best for the future.
Next &nbsp&nbsp&nbsp&nbsp

›



‹

&nbsp&nbsp&nbsp&nbsp Previous

Back to Blog