September 23, 2022
What is External Quality Assurance?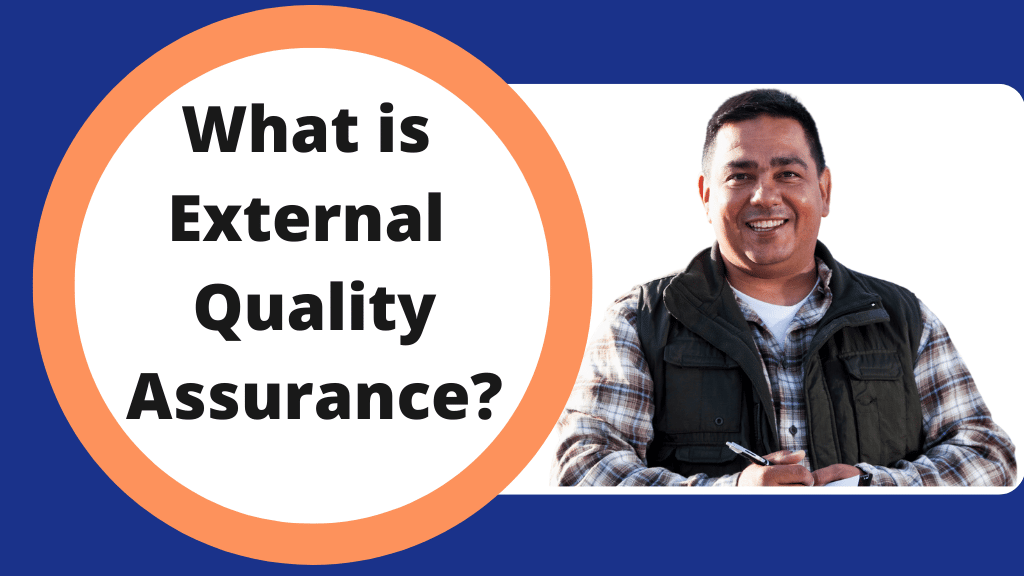 Within the educational sector, External Quality Assurance, also known as EQA, is a system designed to review quality on behalf of an awarding body.
If you teach or assess qualifications which are certificated via an awarding body (also known as Awarding Organisations or AOs), then you've probably already come across External Quality Assurance.
This is the process of checking, inspecting and reporting, on behalf of the awarding body, which must take place for each approved centre offering qualifications.
Each college, training centre, company and institute are subject to regular External Quality Assurance, not only when they first start offering qualifications, but also on an ongoing basis.
What is the External Quality Assurance process?
The External Quality Assurance (EQA) process includes checks to ensure that the learners who have been enroled receive appropriate teaching and assessment, to check that there is no cheating or malpractice and to ensure that the centres offering these qualifications are up to date themselves.
The individuals tasked with ensuring this compliance are known as External Quality Assurers, and if you've worked in a training centre or college you will probably have met some of these!
Even if you haven't met an EQA "in the wild" before, you've no doubt heard people talking about them.
It was most likely in slightly worried tones such as "Oh, I'm stressed out the EQA is coming next week." or "I really hope we get on with this new EQA who's been allocated to us." or possibly, "I don't know what the boss will say about this latest EQA report".
Many of those getting stressed about the EQA are the very same people who, as assessors, monitor and check candidates and students and report on their performance.
Others are IQAs or Internal Quality Assurers, whose role in the college or training centre is to monitor and check assessors' performance and to report on their compliance.
This means that everyone involved tends to get stressed about being checked and monitored by the next person along the chain!
However, there is no reason to be alarmed by a visit, report or indeed any other interaction with an External Quality Assurer (EQA) – despite the rumours you might have heard they are, in fact, a decent bunch of folks whose role is to help and support centres as well as monitor them.
Indeed, nearly all awarding bodies explicitly state that the EQA role includes duties to "provide our centres with guidance, support and current industry expertise." thus making the EQA your go-to person, who has both the ability and authority to help you and your colleagues.
Much of the fear and apprehension surrounding EQA visits and reports is an overhang from a previous era where many awarding bodies were monopolies in their areas and employed external verifiers, or EVs as they were known, to verify centres were operating correctly.
This system was much less certain than the modern one we know today and sometimes led to draconian "sanctions" or penalties if something was not to their liking.
These days, although EQAs can and do recommend sanction if there is any serious malpractice, cheating or other shenanigans going on, they are really most interested in helping you to ensure compliance with the awarding bodies' requirements.
When does External Quality Assurance start?
You probably don't realise it but External Quality Assurance starts even before your centre gets it's first candidate!
When a professional organisation applies to an awarding body to offer qualification, a process known as gaining centre approval, one of the first things to happen is that the centre's application, policies, procedures, facilities and staffing are checked by the EQA.
The External Quality Assurer (EQA) then submits their report to the awarding body. You'll then receive a decision from the awarding body, typically either (a) giving approval to start the courses or (b) suggesting some change or improvement needed which you will have to make before rechecking by the EQA.
And once you've received approval to become a centre and start offering the qualification, the External Quality Assurance process isn't over! It's
In fact, the best thing about External Quality Assurance is that it's an ongoing process which carries on all the time you are a centre, even if you change to start offering different qualifications. As long as you're an approved centre then there will be some EQA activity, it's not a once-and-for-all thing.
What does ongoing External Quality Assurance include?
Ongoing External Quality Assurance involves the EQA regularly visiting or making contact with you, and the sort of things you can expect include:
Checking the centre's own internal quality assurance (IQA), often by liaising directly with your Internal Quality Assurer.
Ensuring that the assessments which candidates undergo are fair and reliable, meaning they meet the same standards as other centres and comply with the awarding body requirements
Checking enrolment processes and documentation
Sampling assessments, whether that's visiting and observing the assessors at your centre, interviewing them and their learners, or reviewing assessment results and decisions
Looking at the staff resources available at the centre to make sure that your team is fully qualified and up to date with their subject as well as their teaching and assessing skills.
While the EQA is with you on-site, there are plenty of things they can do to help your organisation and support your team. Remember their interest is in reducing the risk of malpractice, errors or anything else which could adversely impact the quality, respectability or status of the awarding body or qualification.
How can an EQA help me?
An EQA is typically a subject expert and has a wealth of experience so there are all sorts of things they can do to benefit you:
Advising on staff training and CPD updates to improve their work and keep up to date
Suggesting assessment methods to best suit the subject and the candidates' needs
Liaising with your IQA to make sure they know how to best carry out sampling and document the work they do
Briefing assessors on the current requirements set by the awarding body
Pointing out best practices in teaching and assessing and suggesting improvements to management
So, think of External Quality Assurance as an ongoing process involving your EQA, your team at your centre (including your IQA), as well as the awarding body as a whole. And remember they are there to work with you, not against you!
If you would like to find out more about External Quality Assurance or qualify as an EQA, you can learn more about becoming an EQA here.
Next &nbsp&nbsp&nbsp&nbsp

›



‹

&nbsp&nbsp&nbsp&nbsp Previous

Back to Blog